Do Midterms Really Matter?
Hang on for a minute...we're trying to find some more stories you might like.
With just under 60 days until the midterm elections, Democrats and Republicans are scrambling to excite voters and persuade them to get out and vote on November 6th. But for most Americans, midterm elections take the backseat on important elections to vote in. Because of that mindset, NPR reports that 4 out of 10 of those eligible to vote in the United States did so in the 2014 midterms.
While it is easy to pretend like the primary elections don't matter, they actually impact decision making far greater than we may think, as senators often pull a weight higher than the president. The Senate and House of Representatives are responsible for many critical decisions that can alter the course of history. For instance, Congress alone has the power to impeach the president, and the Senate ultimately decides on the appointment of Supreme Court justices and officials serving in a president's cabinet. Congress alone has the power to declare war, and they alone balance the budget for the entire country.
As Lily Garcia puts it, "Some people ignore the midterm elections because they aren't presidential elections. But the people that we are voting in to office still have the power to make equally as important decisions as the president." Garcia, a senior and co-leader of Boise High's Young Democrats club, strives to be politically active in today's political scene.
Midterm elections usually create turbulence in Congress, with one-third of the Senate being decided and all 435 House seats also on the line. However, this year adds a new twist as Democrats vie for control of the Senate and House while Republicans endeavor to remain the majority. For Democrats to win back the House, they will need to hold on to the 194 seats they currently control and flip at least 24 Republican seats. Additionally, Democrats will need to secure wins in 10 states Donald Trump won in 2016 in order to have a shot at retaking the majority.
However, political analysts note how a "blue wave" appears to be sweeping the country with progressive Democrats like Andrew Gillum and Alexandria Ocasio Cortez pulling off impressive feats against their same party opponents. Ocasio Cortez pulled off a big upset in New York this past month after she beat a long-time Democratic incumbent. If elected to the House, Cortez will become the youngest woman ever elected to Congress.
On the Republican side, GOP politicians stand optimistic that their party will come out on top in November. Democrats haven't controlled the House since 2010, and history has proved that it's usually easier to maintain the House then gain it back. Republicans appear to be sticking to the Trump-style rhetoric in order to appeal to their voters, and it seems to be working in convincing Republican-leaning voters to go for the GOP.
Democrat or Republican, whoever secures Congress in November will likely influence decision making for a generation, as the 10 year Census happens in 2020, which lays out boundaries for political districts on both the left and right.
While there are countless articles out there that explain every possibility of one side triumphing over the other, the true probabilities and possibilities are in the public and the way they vote in November.
When asked "why vote?" Garcia brought the idea of democracy back into the picture.
"The reason we have a democracy is so our government is representative of our population and everyone's opinions are accounted for. You can't expect someone else to speak for you, you actually have to go out and speak for yourself."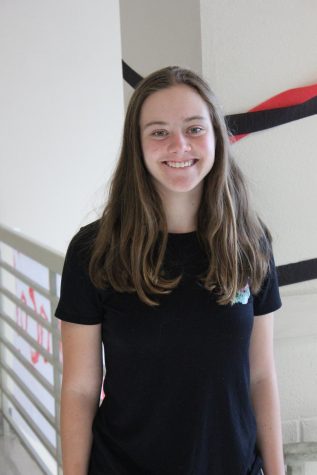 Sofi Serio, Editor-In-Chief
Sofi Serio is a senior and one of two editor-in-chiefs for the Boise Highlights staff of 2018-2019. She has been on the staff since her sophomore year,...