Mental Conditioning for High School Athletes: 'Squats, For Your Soul'
Hang on for a minute...we're trying to find some more stories you might like.
Deep breath in; on a count of four. Exhale; repeat. Hold for two seconds, and release. You tune out all the background noise, the crowd's cheering, the blood pumping through your veins, and the rapid beating of your heart against your chest.
There's a race to be finished; a routine to be executed; a match to be won.
Being a high school athlete can be tough. Not only are you managing your time between school, practice, friends, other hobbies, and perhaps a job, but there's more on the line now compared to previous years. Now, there's the opportunity to compete nationwide, earn respective titles, and obtain college scholarships.
With all this mind, how can one ensure a successful season without crumbling under the pressure?
In his TED talk, Jonathan Fader, a sports psychologist who's worked with NFL and MLB athletes, shares a few simple strategies to use in competition with the concept of mental conditioning.
This includes the breathing exercise mentioned in the beginning, a form of meditation to help calm your nerves and slow your heart. He stresses regulating your breath, suggesting that if your breathing is out of control, then your thinking is out of control. Other techniques Dr. Fader recommends are mental rehearsal, internal motivation, and positive self-talk. "This is squats, but it's for your soul," he states. "These are curls, but it's for your brain."
Sarah Hammond, a junior on the Boise High cross-country and track team, talks about her approach to competition preparation and performance.
"As I've gotten more experienced, I've learned how to control the stress…until the last minute," she says. In the moment, Hammond considers stress beneficial when it spikes up her adrenaline, but says "you don't want it to overwhelm you." Before a race, Hammond drills to keep her body warm, avoids talking to people to maintain focus, and envisions herself crossing the finish line.
When asked how she responds when things don't go well, the junior said the comfort and support provided by her coaches and teammates allows her to get back on her feet.
Hammond makes sure to address both the positives – finishing the race – and things she could improve on – resilient mentality – for her next race, reminding herself "I can always do better."
In the end, it all comes down to figuring out what gets you into competition mode as well as garnering a confidence in your abilities. A clear mind and a driven soul is what truly makes a spectacular athlete.
About the Writer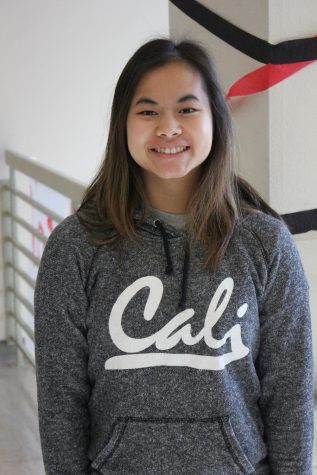 Callie Rice, Reporter
I am a junior at Boise High, and this is my first year on the Boise Highlights staff. I spend most of my time at gymnastics practice - a sport I've kept...