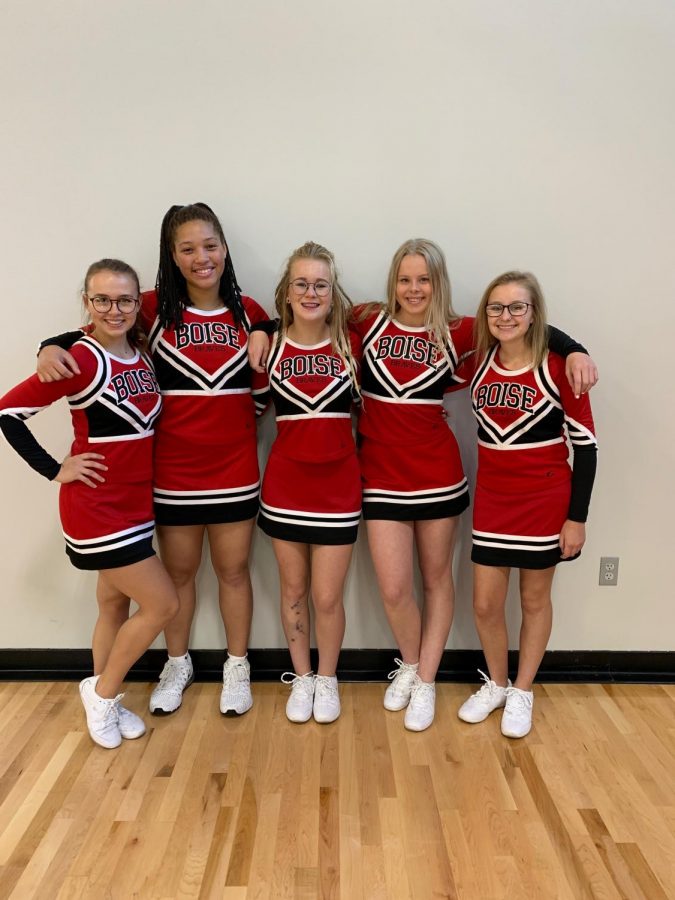 Brittany Zeigler
The bright red pom poms, the short skirts and the clean white shoes. The cheerleaders have become a beloved and longstanding tradition here at Boise High. Throughout all the years our beloved spirit leaders have cheered at the side lines, and the program has undergone many changes. On top of new coaches, one would think that this year they may have undergone their most challenging change yet; transitioning from the Braves mascot to the Brave.
They are not alone in this transition, as our entire school will face similar challenges throughout the year relating to the transition.
Luckily, our cheerleading program has taken this challenge in stride. This year's new Head Coach, Ms. Zeigler, even calls the Brave mascot a small change compared to what she has planned for the Cheer program. "We have big things planned for the cheer team, it's been a big revamp for our program. We might be a small program, but we definitely have a new way of doing things. That starts small with the mascot change but big with how things are run, school support and school spirit."
With years of coaching and assistance experience, both at Timberline and Boise under her belt, Coach Zeigler wasn't phased at all by the new mascot change. "To tell you the truth," she explains, "It wasn't very difficult. I thought that we were pretty well informed and (the administration) was really supportive in helping us make that change, and supportive in getting us resources where we needed them, and getting us all of the information that we needed to help students and parents get on board with it as well, and we were on board with the change so I was supportive of that."
And yet, Zeigler acknowledges that "We definitely had to get rid of some old favorites." Maddie Black, a second year veteran on the cheer squad, backs up this viewpoint. "It is really hard to go from Braves to Brave, we've had to change like half of our cheers…I would say maybe like ten +cheers we lost…so it's a lot of changes, a lot of things that we can't wear, a lot of things that we can't say or do." However, Black is supportive of the change, adding "I mean, it's for a good cause."
As Coach Zeigler puts it, with a new mascot comes new traditions. "If (the student body) can support us in (the change) we'll try to lead that out front…but the old (cheers) will always be a part of our traditions." She reminds us that "Traditions always start somewhere, so (sophomores) can be a brand new class of kids to start the (Brave) tradition."
Black pipes in, saying that "The new cheers are still the same old cheers…they are just as fun, if not better, they're just better and more improved and not too different." What a great way to start new BHS traditions, with new and improved cheers! And with the revamping of the cheer program, Zeigler promises again that "We'll help start those traditions."
With changes happening all around, the Brave mascot appears to be the least of the cheerleader's worries. "The program is absolutely doing amazing," Maddie Black gushes with enthusiasm. "Except for in quantity," she adds, "but for quality, we are doing amazing."
So, next time you head to a football game at Donna Larson and witness our amazing cheerleaders on the sideline, join in and cheer for the Brave. With all this talk of changes, that's one thing that hasn't changed; you can always rely on your BHS cheerleaders to be cheering on our fellow Brave athletes.