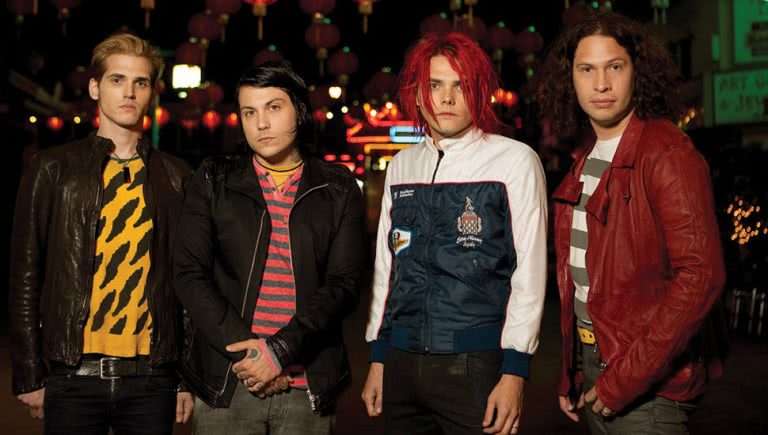 My Chemical Romance: The iconic band that swept the nation, leaving a trail of eyeliner and tears in the dust. March 22, 2013, disaster struck, and the band was no more.
The loss of the band was catastrophic, leaving millions of emo fans without a support system. The band breaking up was something that no one expected. Years went by, and little by little, it became apparent that it truly was the end for the band. 
On the ten year anniversary of their most iconic and well known album, ¨The Black Parade,¨ they released a video titled MCRX. Immediately, fans began to suspect that the band was getting back together, but the hope was short lived when it was announced that MCRX was simply a celebration of the anniversary of the album. 
After six years, it became clear that there would be no reunion. But then, when all hope was lost, Halloween of 2019 happened. The reunion was announced. Panic struck the hearts of every former emo, as black eyeshadow was dug out of the trash, and Hot Topic sales soured through the roof. The boys are back in town, baby! 
Gerard Way, the lead singer and frontrunner of the band, said, "I don't know if it would have happened if it wasn't now" regarding the reunion and the timing of it. 
The band has since put out a short film called 'The Summoning' in which a teenage boy uses a Ouija board and is transported to the most memorable moments of their music videos and songs. After the video was published, Mikey Way said, "Thanks to all who summoned us—it worked!"
The fifteen minute short film also featured the use of intense instrumental soundtracks, which could possibly be teasing some new music, in addition to their reunion tour. This has not been confirmed by the band however. 
The My Chemical Romance USA tour sold out extremely quickly, leaving only resale tickets available at extremely high prices, with tickets in high demand it's clear that the band is being welcomed back with open arms. All in all, it's an incredibly exciting time to be an MCR fan.