John Krasinski to the Rescue: Some Good News and its Positive Influence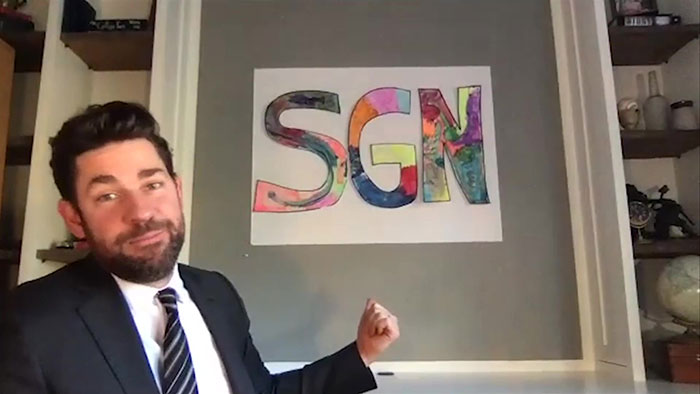 In the past couple of months, a thundering cloud of despair overshadowed worldwide news; no continent is safe from this downpour. In the midst of the storm, bright rays of light poke through this veil. The smallest acts of kindness, the simplest moments of happiness, reflect promise and hope for humanity. 
Influential actor John Krasinski took action to spread a lighter perspective during these dismal times. Krasinski created a platform which spreads compassion and inspires his audience to smile at the good being done in the World rather than focusing on fear. 
Some Good News, a weekly uploaded youtube channel operated by Krasinski, has accumulated over 2.2 million subscribers and more than 45 million views in a month. The fifteen to twenty minute videos mesh the format of news outlets with talk show satire and interviews for a unique commentary feature of day to day acts of altruism and joy.
The main headlines center around honoring healthcare workers around the World. Episode 3 of Some Good News featured a safe surprise tour of Fenway Park, home of the Boston Red Sox, for the Beth Israel Deaconess Medical Center Covid-19 Unit. 
To those at home, Krasinski shares Twitter posts of kindness, such as a video of a homeowner offering extra toilet paper to delivery drivers or a teacher helping a student through the window of her home. For further entertainment, Krasinski connects fans to their favorite celebrities with guest appearances from Emily Blunt, Brad Pitt, Steve Carell, the cast of Hamilton, and many others.
Although essential, the stay-at-home order became emotionally demanding for many, specifically those missing their much deserving milestones achievements. Seniors in high school have abandoned hope for graduation, prom, and their last days of highschool. 
Quick to the rescue, John Krasinski took it upon himself to remedy the situation, broadcasting a live prom with musical guests: Jonas Brothers, Chance the Rapper, Finneas, and Billie Eilish, in his youtube channel. The class of 2020 responded in their social media with videos sharing their own perspective of the virtual prom from decorations to their glam outfits and dance moves.
If you're ever feeling down, or just a little bored, catch up on the latest episodes of Some Good News with John Krasinski on Youtube. It's never too late and you won't regret standing in range of this explosion of kindness.
About the Writer
Luiza Decenzi, Editor-in-Chief
Luiza 'Lu' Decenzi is a Boise High Senior from Sao Paulo, Brazil. She has been a part of the Boise Highlights staff since 2018 and is one of the editors-in...