Havana's Horoscopes: Haunting Humanity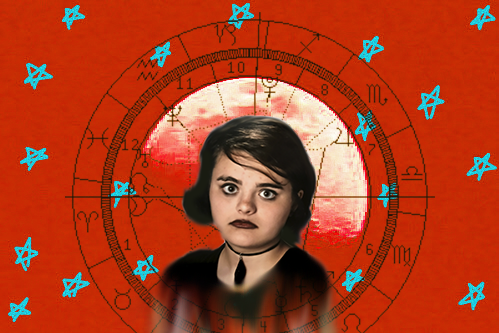 This article has been written with Havana Garrett's explicit permission. It should not be taken earnestly, it is purely a humoristic approach to counter a Horoscope article published simultaneously. 
Through recent years, horoscopes have become inevitable while sifting through teen magazines and Snapchat stories. They are everywhere. There is no escaping the speculations of your future. That is, yours and everyone else whom you share a zodiac sign with. 
With the sudden popularity of these "forecasts of the future," more and more entertainment industries have taken to the trend. Horoscopes were originally meant to offer an astrologer's analysis of celestial bodies and their conceptualization into predictions of sensitive times and events. These astrological readings find themselves tied to a variety of cultures throughout the world. The Hindu, Chinese, and Greek, among many others, have a historical tradition or past of charting the movement of the sun, the moon, and other planets for the purpose of receiving insights on future events for a variety of reasons. 
However, nowadays horoscopes are often written daily by inexperienced writers, who know very little about astrology or how to accurately map the movement of celestial bodies, much less how to properly read them into divinations. Where the common conceptions of horoscopes differs from true astrology is the attention to details. 
Astrology often looks at the specific movement of the celestial bodies and how it applies to either a single individual or society as a whole when charting greater issues. What most people think of when they hear the word "horoscopes" are short, ambiguous blurbs about people's private life, or careers, grouped together by zodiac signs. No longer are horoscopes written by astrologers, they are now written by high school students who purely base their decisions on stereotypical depictions of zodiac signs. Horoscopes turned into comedy and vague speculations by the media, simply because it gets them clicks and views. 
There is nothing wrong with believing in astrology and horoscopes. Nor is there anything wrong with being skeptical about it or reading horoscopes just to laugh at wild predictions that will likely never happen. But there is a distinction between the two that is very rarely kept separate. 
Those who truly believe in horoscopes, must make sure they are receiving their information from reliable sources. Definitely should not pay too much attention to someone who very clearly shows bias towards certain zodiac signs or would write "no, just no." for virgo's horoscope simply because I asked them to. There does come a point where these types of articles can't even be classified as pseudoscience, but merely random thoughts a highschooler had. When looking for astrological predictions, the Boise Highlights is truly not the place to do so. I would not even dare call it astrology, as that would be an insult to every astrologer out there. 
Furthermore, those who look at horoscopes for entertainment must also ask themselves if the horoscopes they are reading truly define astrological tradition or simply the imagination of an unpaid writer. But after all, if reading a high school senior saying that Leos are flawless makes you feel a little better about nearing the colder than average winter in Idaho, who am I to say no.