Does the Media Influence the Way We Think?
Hang on for a minute...we're trying to find some more stories you might like.
The underlying idea behind news coverage and journalism is that the person behind the script on the Today Show or the author of a breaking news article on Fox News all have the same goal: to tell the unbiased, objective truth about an event.
But is that actually a reality? Do people turn to Fox News for objective news about the Trump-Russia collusion? Do people expect the New York Times to remain objective in their coverage of gun control? Or do they turn to those news sites because they know the writing will support their thinking on events?
Stances taken by the New York Times and Fox are notably different regarding gun control.
In recent news, the broadcast company Sinclair has been under fire for airing the same message throughout hundreds of news corporations, all owned by the media giant itself.
The message was eerily similar across hundreds of local TV stations across the nation, including Idaho's very own KBOI Channel 2.
The script included phrases such as,
"The sharing of biased and false news has become all too common on social media."
"Some members of the media use their platforms to push their own personal bias.
"This is extremely dangerous to our democracy."
"It's our responsibility to pursue and report the truth. We understand Truth is neither politically 'left nor right.' Our commitment to factual reporting is the foundation of our credibility, now more than ever."
Many have found irony within these quotes, noting how Sinclair is known for pushing a right-leaning agenda, and even pledging to support Trump. By saying how members of the media use their platforms to push their own personal biases, the public has commented that Sinclair is essentially contradicting itself.
In 2016, David Smith, the chief director of Sinclair, reportedly told Donald Trump that the company was there "to deliver" his message.
Since then, Smith has repeatedly denied that the company is biased in Trump's favor. A report by The Hill chronicled that "Smith told the Guardian the comments signaled that Trump could be interviewed by Sinclair whenever he wanted — not that the company was biased in his favor."
However, there appears to be a conservative tilt to those stations owned by Sinclair. Sinclair often asks its affiliated stations to show "must-run" segments created by the broadcasting groups. These "must-runs" typically include a prerecorded video of commentators speaking in favor of Donald Trump.
Following public outcry over Sinclair's message to viewers, Trump himself weighed in on the matter, tweeting, "So funny to watch Fake News Networks, among the most dishonest groups of people I have ever dealt with, criticize Sinclair Broadcasting for being biased. Sinclair is far superior to CNN and even more Fake NBC, which is a total joke."
Trump has frequently lashed out against non-Sinclair affiliated news organizations like the New York Times, CNN, PBS and the Washington Post, so people have made out his tweet to be continued support for Sinclair-owned news stations.
The United States was built upon the ideas of freedom of the press, access to information and the right to free speech. But as a country, citizens have been known to divide themselves into 2 categories, and so in order for news companies to reach their supporters, they too must choose a category.
The news plays a critical role in how people perceive information, so holding news organizations accountable for inserting bias into the news is important in understanding new information.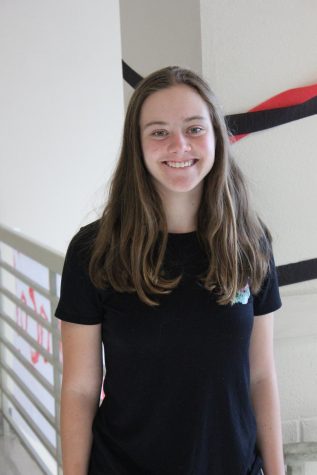 Sofi Serio, Editor-In-Chief
Sofi Serio is a senior and one of two editor-in-chiefs for the Boise Highlights staff of 2018-2019. She has been on the staff since her sophomore year,...