A Retrospective Look at LGBTQ Issues at the Justice Summit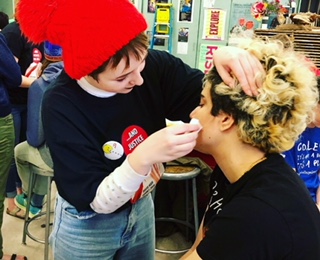 Hang on for a minute...we're trying to find some more stories you might like.
On March 21st, during Boise High's Justice Summit, a crowd of Boise High students filtered into an art classroom at Boise High, ready to be turned into queens.
Under the instruction of Boise High senior Kevin Peters, the students carefully applied glittery eyeshadow, tried on wigs and dresses picked from the pile at the front of the room, and smeared glue on their eyebrows so they could cover them up with foundation.
They were discovering the subversive and extravagant world of drag–a performance art often associated with the LGBTQ community in which people, usually men, dress in flamboyantly feminine outfits and dance or perform comedy routines.
For most drag queens, whether their performance is a profession or a past time, drag is a source of empowerment and self-love. RuPaul, one of the most famous queens, summarized the drag mentality when he said "When you become the image of your own imagination, it's the most powerful thing you could ever do."
For most of the students in the room that day, Peters' workshop was the first time they had glued their eyebrows or thought up names for their drag queen alter-ego. For Peters, however, drag is more familiar, and his idea for the workshop stemmed from his own positive experiences.
"I decided I wanted to hold a drag workshop because I had been doing drag for a while and finally took pictures, and when I showed my friends they wanted me to teach them," says Peters.
On the day of the summit, the atmosphere in the classroom was lighthearted as students swapped wigs and giggled over each other's makeup. But beneath all the glitter, the world of drag is often more complicated. "I've seen reports where drag clubs get shot at and burned down by extremists," says Peters. Drag queens, and anyone who dresses in a gender-non-conforming fashion, are often at risk for harassment, and even violence or hate crimes, when they wear what they want to in public.
Peters' workshop itself was not without controversy. Students attending the workshop were required to obtain parent signatures prior to entering the room, a move that frustrated some. "I understood that the administration was just trying to cover their tails in case any parents got mad that their kid attended a class about drag," says Peters, "but I won't lie and say it was okay."
According to Boise High principal Mr. Thompson, the decision to require parent signatures for Peters' workshop was not one that was made lightly.
"Though we have made strides and progress, we still have to think about our audience," says Thompson. "This is one of the things that's very tricky for me, as principal. Because while I want to give students choice and freedom with certain things, I still have to look through the lens of a parent. And not just a parent of a senior, but the parent of a sophomore or in some cases a ninth grader. It's not like drag is some big scandalous thing. But that's a hot-button word for some people."
In many ways, the tension over Peters' workshop is just one part of larger growing pains as Boise High, and society in general, moves towards greater acceptance of the LGBTQ community.
"[LGBTQ issues have] gone from zero conversation to a significant issue in the building that we have to meticulously think about in terms of preserving and protecting the rights of all of our students," says Thompson. "With maturity and development and acceptance of different social norms, everybody's on this continuum. Some parents are far more comfortable with some things than other parents are. And while I want to give students the opportunity to find that expression for themselves, and do it in a way that's appropriate, I also have to balance that with what parents are comfortable with."
Peters understands the administration's point of view; still, he's frustrated that something he loves is still so misunderstood. "Drag itself as a concept comes with a lot of preconceived notions," he says.
He hoped that his workshop could help to change that, at least at Boise High: "I wanted to tell people that it's not all about being sexual and that it is just supposed to be a fun way to express yourself."
For students at the workshop, that message–about finding a fun way to be yourself–was the one that stuck, long after the glitter and makeup was wiped away.