A Summer for the Books
Hang on for a minute...we're trying to find some more stories you might like.
Our new generation's summer generally consists of hunkering down in front of the TV for hours of Netflix. This summer, instead of feeling immense regret at the end of August for the things you didn't do, why not impress people and try out a book or two? You've got nothing to lose, and now it's easy to choose with a variety of great book ideas!
Homo Deus- A Brief History of Tomorrow by Yuval Noah Harari- Looking for a provocative taste of human history and a speculation on where life for humanity will go? Choose this book- it explores the science, aspirations, and conflict that will form the upcoming century, leaving us to wonder if we truly have a grasp on our world.
Not a Sound by Heather Gudenkauf- If you're looking for a book that will jolt you from your summer lull, this is the book for you. Protagonist Amelia is left deaf after an accident and soon discovers a dark secret, but she must make the choice to dig deeper into the mystery and put her world in danger.
Attachments by Rainbow Rowell- A romance with some minor stalking, this book features a human resources worker who starts to admire one of the subjects in the many emails he reads for the safety of his company. Let this light-hearted romance whisk away all your blues.
Children of Blood and Bone by Tomi Adeyemi- The author conjures a mystical world full of danger and magic while challenging everything that makes a "good" YA fantasy novel- including dark magic and love.
Stiff by Mary Roach- Death is not only sad, but extremely intriguing. Mary Roach takes readers on a fascinating and sometimes revolting journey through what happens to a body after it dies. If it doesn't make you a little queasy, it is at least sure to broaden your mind.
Stolen by Lucy Christopher- Learn about the beautiful desert of Australia while seeing life through the eyes of a kidnapped girl. Written to her kidnapper, this story defies all odds as protagonist Gemma's turmoil with her new and old life causes her to question if her life back in London was as good as she thought it was.
House of Leaves by Mark Z Danielewski – This astonishing novel focuses on a family who discovers that their house is bigger on the inside than the outside, leading to undiscovered horrors and whispers of something lurking deep within the house.
Dragonfly by Frederic S. Durbin- While not a well-known novel, Dragonfly combines components like fantasy and horror to bring us a truly captivating story of young woman Bridgit Ann, who gets lost in the world within her grandfather's home and discovers a plethora of mysterious characters.
The Colour of Magic by Terry Pratchett- The first of classic, irreverent series Discworld, this fantastical story features a young wizard, Rincewind, who is hired as a guide to tourist Twoflower in their curious, unexpected world upon the back of a giant turtle.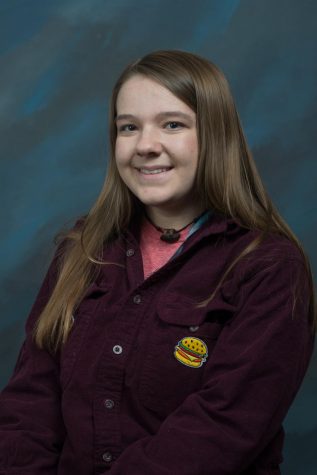 Georgia Udall, Reporter
Georgia Udall is a sophomore and has been enjoying her first semester as a part of the Boise Highlights team. Her love of writing began young, along with...