A Little Sip of Paradise
Tropical Smoothie Cafe Holds Its Own in Boise
Hang on for a minute...we're trying to find some more stories you might like.
Nestled in the heart of the newly improved Grove Plaza, Tropical Smoothie Cafe might seem like just another Jamba Juice trying to make its way in a town where everything local is popular and almost everything chain is frowned upon.
However, walk in the highly air conditioned doorway, and you'll see that the cafe has a vibe contrary to the usually stale environment of a chain restaurant. Inside, it feels like walking onto a boardwalk at the beach. Brightly colored stools sit next to wooden countertops, upbeat music flows from the speakers, and beach scenes cover the walls.
In addition to the positive feelings evoked by the peaceful decor, the staff is extremely friendly, and no matter whether there are 2 or 15 people in the cafe, they always call out "Have a good day!" to those exiting and "Hello!" to those coming in for a visit.
One of the biggest downsides of the Jamba Juice chain that used to dominate the smoothie craze on 8th Street was the genericness of the place and its drinks. Walking into Jamba Juice, one was greeted with an empty-looking room that smelled like grass. Further, the drinks often tasted like a juice concentration was mixed with a few chunks of frozen fruit to create a more authentic feel.
Nothing in Tropical Smoothie Cafe's drinks suggests that it was made from a juice concentrate, or that a few chunks of frozen fruit were added so consumers wouldn't be wary of freshness. In fact, Tropical Smoothie Cafe prides itself with freshness, stemming from its mission statement  which declares that, "We find that superior, simple ingredients including real fruits and veggies just tastes better." This statement is rooted in truth, as their smoothies are made with various smoothie fixings that are right there surrounding the smoothie-making island.
Aside from just serving smoothies, Tropical Smoothie Cafe also has a wide variety of food options, from wraps to sandwiches and flatbreads to bowls. The ingredients in their smoothies parallel the elements in their food; everything just tastes fresh.
One of the most unique things about Tropical Smoothie Cafe is the size of the drinks. Unlike most smoothie places, TSC has a one-size-fits-all menu. For $4.99, you can get a 24 oz regular smoothie. $5.49 gets you a 24 oz superfood smoothie.
The most popular smoothie flavors are Island Green and Sunrise Sunset. It's no surprise Island Green is so popular, as it tastes like everything good has been blended into one drink. Although from the onset, this drink may sound scary due to the fact that it contains kale and spinach, the pineapple, mango and banana counteract any unpleasant tastes spinach and kale may hold.
On the other side of the aisle, Sunrise Sunset, which is a blend of strawberries, pineapple, mango and orange juice, quite literally tastes like you are on a beach basking in the sun.
Whether it's beating the heat or trying to fill up after a long day at school or work, Tropical Smoothie Cafe should be your next stop for a fresh, unique style of smoothie-making.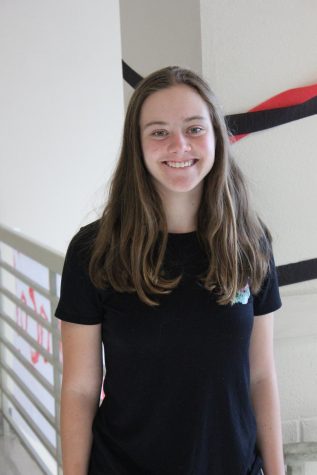 Sofi Serio, Editor-In-Chief
Sofi Serio is a senior and one of two editor-in-chiefs for the Boise Highlights staff of 2018-2019. She has been on the staff since her sophomore year,...