Boise High: The Foodie Oasis
Hang on for a minute...we're trying to find some more stories you might like.
11:41. Mondays, Tuesdays, Thursdays, and Fridays. 11:56 on Wednesdays. For most students, these times hold a huge significance in their seven course school day; It is the beginning of lunch, a roughly 40 minute period of devouring food, hanging out with friends, and relaxing from tiring classes.
Because Boise High students are permitted to venture off campus during lunch hour, downtown businesses experience daily rushes of students filtering in and out of their stores in search of delicious food and savory drinks. If you aren't already aware of the numerous student favorites located near the school, or downtown in general, you'll have plenty of opportunities to discover and experiment new food joints throughout the school year.
Audra Carles, a junior, names a few of her go-to lunch places such as Costa Vida, Panda Express, Chipotle, and Pie Hole. Factors such as cost and time influence where and when Carles eats out, as lunch can be "such a time crunch when going off campus."
Though she's picky with tardies, Carles appreciates the convenience of open campus lunch, saying,
"…if I don't have time to make lunch at home, I can just leave campus during that time period and grab something."
Additionally, sophomore Ashley Thies enjoys Fanci Freez and Subway, as they are both inexpensive and nearby.
"With off campus lunch, you're a lot more free to do whatever you want." Thies said.
The sophomore adds that in Junior High, you couldn't do that.
The strategic placement of Boise High school in the center of downtown exposes students to a whole selection of restaurants, including the insanely popular hotspot Boise Co-Op.
Carol, a Co-Op employee of three years , details the flurry of students shuffling around the store, swamping the sushi, pizza, and bagels. She says the students bring a certain youthful energy to the place, concluding,
"It may be a little bit overwhelming…but for the most part it's good."
Regarding the past incidents of shoplifting, Carol says they're vigilant of the students who come in, and says "just don't do it."
Being surrounded by such an abundance of restaurants is definitely a perk for Boise High students, teachers, and staff. It's worthy to note that for students, off-campus lunch is a privilege, and disrespectful or disruptive behavior will not be tolerated.
One last thing to remember: Watch the clock whenever eating off-campus. Come to class after 12:21, half unfinished sandwich in hand, be sure to expect a tardy.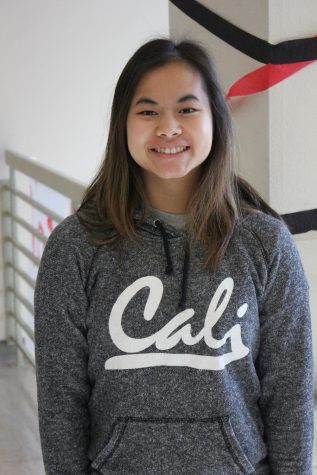 Callie Rice, Reporter
I am a junior at Boise High, and this is my first year on the Boise Highlights staff. I spend most of my time at gymnastics practice - a sport I've kept...