History Made in 2018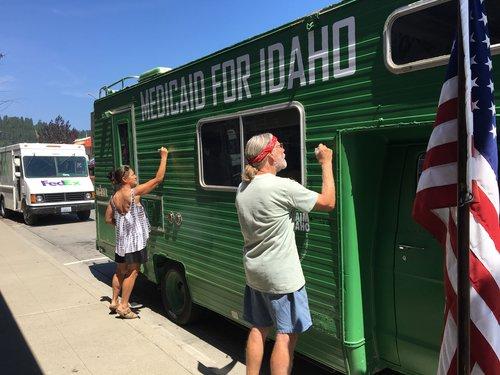 Hang on for a minute...we're trying to find some more stories you might like.
Voter turnout was remarkable in November as midterm elections made history all across the country.  
But you don't have to look far to see history being made; Idaho's elections made history all on their own.
The Idaho Statesman reported that voter turnout in Idaho actually exceeded the turnout for the 2016 presidential election. The number of people who voted increased 46.8 percent from the 2014 midterms, and 78% of registered voters voted in the midterms this year, shattering all records across the state for midterm voting.
Why exactly were Idahoans so excited to vote this year? The president was not on the ballot, which usually means disappointing turnouts in local elections.
The reason may lie in the race turning heads across the country: Idaho's Gubernatorial contest. The governor's race was heated: Republican and former Lieutenant Governor Brad Little faced off against Democratic state representative Paulette Jordan, the first Native American woman in Idaho to run for the governor's position.
Although Brad Little ultimately won over Jordan, Jordan pulled in 227,720 votes to Little's 360,081, which was a impressive feat for a Democrat in the conservative state of Idaho.
Also on the ballot were Proposition 1 and 2, initiatives put on the voting ticket by petition signatures. A simple "YES" or "NO" was required on these questions, however the meaning behind the initiatives was a little more complicated.
Proposition 1 debated whether or not to bring horse racing back to Idaho. Backers of the proposition asserted that horse racing brings hundreds of jobs back into Idaho and helps to fund Idaho's public education system. Those who resisted the initiative argued that the proposition is about slot machines, not horse racing, and Idaho schools only receive half a percent of the total funding from horse racing.
Ultimately, Prop 1 failed with only 46% of the vote.
Proposition 2 sought to expand Medicaid coverage to over 65,000 Idahoans who fell into what people call the "Medicaid gap". These people make too much money to qualify for Medicaid, a state program that provides health coverage to those who can't afford it, but their employer doesn't provide health coverage or people don't make enough money to buy health insurance themselves.
Medicaid expansion passed resoundingly with 60% of statewide constituents voting yes.
Claire Whitman, a Boise High senior who canvassed for Medicaid expansion, explained, "I think [expanding Medicaid] shows that people are willing to vote past party lines and party issues if it's going to directly impact them."
Here in Boise, the Ada County Commissioner race was a hot topic, as Diana Lachiondo, who worked as Director of Community Partnerships for Boise, took on incumbent Jim Tibbs who had spent 40 years in public service and 4 years as County Commissioner.
Lachiondo prevailed with 51% of the vote as compared to Tibbs's 49%.
Whitman, who also canvassed for Lachiondo, claimed that her path to victory was through the 46,000 plus doors Lachiondo's volunteers and campaign staff knocked on throughout the campaign. They also sought to educate people on what exactly a County Commissioner does, as the Commissioner role is often an  overlooked aspect of local government.
"What Diana Lachiondo did is the best way to run a campaign, because especially when you have a lower position of power that you're going for, the best thing you can do is talk to as many people as you can and get your name out there", stated Whitman.
Diana Lachiondo's victory in District 1 and Kendra Kenyon's victory as Ada County Commissioner in District 3 means that for the first time in Boise history, the majority of the Commision will be female.
Idaho's 2018 midterm elections made history statewide, and it's clear that big changes are on their way to Idaho.