The Tradition of Christmas
Boise and the surrounding areas around the holiday season are a flurry of glowing glory. Christmas lights, blow up decorations, and glass icicles pour on top of houses all over the area.
Certain houses and even organized events are planned and lit up to the max, including the Winter Garden aGlow, Scentsy Commons Christmas Lights Ceremony, The Festival of Trees, and the famous Great Christmas Light Fight house in Meridian that was featured on the reality show back in 2014.
Even the large light up reindeer placed around entrances of The Village at Meridian to see Santa and ice skate around the large Christmas tree have become somewhat of an icon during these festive months.
The question is, why have Christmas lights become such a staple item during the holiday season?
Let's start with some background. The first Christmas lights – also called fairy lights – were really just candles used to decorate trees during Christmas in Christian communities to symbolize the light of Christ.
Decorating Christmas trees and buildings with Christmas lights did not become popular in America until the mid 20th century. By the late 20th century, Japan and Hong Kong began to display their own Christmas light decorations.
Historically speaking, in the Christian world, Christmas lights are not meant to be lit until the first day of Advent, this year on December 2nd, and must be taken down on February 2nd, Candlemas Day, otherwise the lights lose their Biblical symbolism. However, considering only roughly 43% of Boise's population identifies with an established religion, not just Christianity, it is safe to assume that many Boisians don't consider Christmas lights a Biblical symbol.
The Winter Garden aGlow is a fan favorite, listed as Mix106's third favoirte activity to do during the winter here in Boise. This year it opened Thanksgiving day and will run until January 1st. "Open rain, shine or snow," their website advertises.
The Botanical Gardens never disappoint, stringing more than 400,000 lights across the garden's frozen greenery. "The Winter Garden [aGlow] is like Christmas blew up in lights. It's so beautiful," says Gabriella Nelson, a junior at Boise High and a frequent visitor to the Garden aGlow.
This season's aGlow is no different. The moment you drive into the parking lot, Christmas lights light your path from the hot chocolate and popcorn stands stationed throughout the paths, to the G-scale model train dubbed the Holiday Express. Maybe you'll purchase a pair of glasses that allow you to see pictures reflecting off the lights.
If you're lucky, you may be able to visit Santa on one of his many visits from the North Pole, or hear select local choirs add to the festive atmosphere. While the Biblical symbolism may be lacking, the feeling of awe the fairy lights induce is not.
Whatever your overall opinion of Christmas lights, these decked out holiday activities are definitely worth the glowing madness.
So, sometime over the long holiday break that lies ahead of us, or even during a boring weeknight or planned weekend excursion, throw on your coat and mittens and get out there to enjoy all that these Christmas light filled activities have to offer.
About the Contributor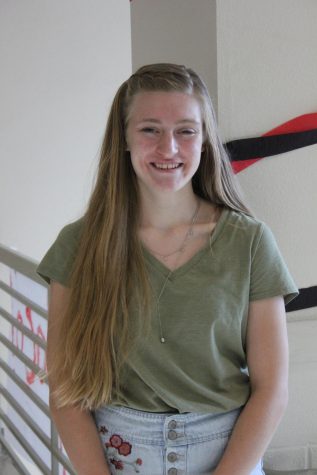 McKenna Johnson, Editor in Chief
McKenna Johnson is a current junior and enjoying her first year as part of the Boise Highlights team. Ever since she can remember, writing has been her...