Naked Giants: An Interview With Treefort Rock Band Band Member Gianni Aiello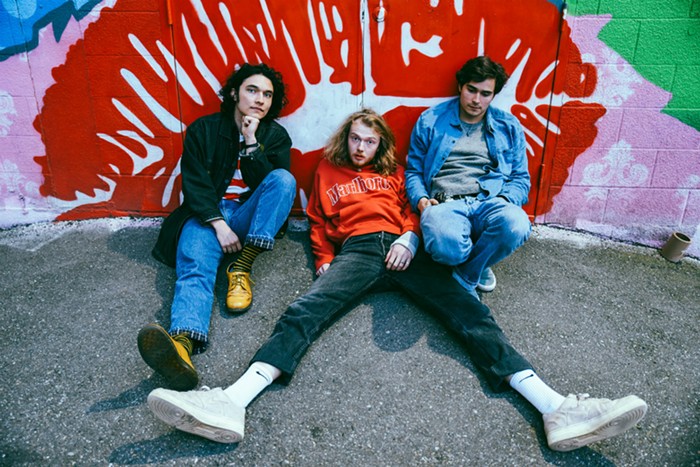 With genres of music ranging from Alternative to Hip Hop and over 400 bands to choose from, it could be difficult determining what bands you want to rock out to this year at Treefort.
Native to Seattle, the alternative/rock band Naked Giants are perfect if you're looking for a hectic punk rock experience at Treefort.
Listening to pretty much any song by Naked Giants, there's definitely a noticeable classic rock vibe to their music. Gianni Aiello explains the type of music and bands that inspired Naked Giants when first forming. "In the beginning, mostly classic rock bands like The Who and Black Sabbath." Now, with the band's experience  playing live and experimenting with new genres, he goes on saying, "Nowadays, we all listen to a bunch of stuff, but Naked Giants is pretty rooted in the 'rock' thing."
In the summer of 2015, Gianni Aiello, Grant Mullen and Henry LaVallee formed Naked Giants. "The three of us got together as Naked Giants right after we graduated high school." Aiello states, "It was the summer and we had nothing better to do than play music all the time so that's exactly what we did."
With just over 10.4K followers on Instagram and 1 million streams on Spotify, Naked Giants have a platform to not only share their music, but to inspire others to do whatever they're passionate about. "Just find what you love and perfect your craft. There's a lot of people who are going to tell you what to do, and unfortunately, there's a lot of men who will tell you that you can't do certain things or you don't belong. But you are your own artist and what you create matters, period."
Aiello says not only do the other band mates and him like to perform and make music, but they realize it inspires others and makes people happy. "I think the ultimate fulfillment of life is to make as many people happy as possible while putting your specific skills to their best use. People seem to like rocking out to our music and that's what we do, so we'll keep doing it!"
Naked Giants have recently released their debut album SLUFF. "There are a few interesting tracks scattered over the almost fifty minute running time of the album, but the rest is pretty forgettable." Mark Moody, Soundlab. "Listening to SLUFF is like sifting through your favorite thrift store, gathering gems from the 60s, 70s, 80s, and 90s and throwing them together in one cohesive and effortlessly cool look." Maeri Ferguson, Glide Magazine.
The band has already performed at SXSW 3 times and currently are on their headlining U.S. tour accompanied by Twen and Car Seat Headrest.
Being a part of the 400+ artists scheduled to perform at Treefort, Naked Giants are ready to hit the stage in a few days. "Treefort will be awesome, I'm just sad we don't get to stick around for the whole weekend."
They will perform at Treefort Thursday the 21st at 5PM at PreFunk Beer Bar and again at 9:10PM at El Korah Shrine.