Sarah's Bagel Cafe: The Hidden Gem of Downtown Boise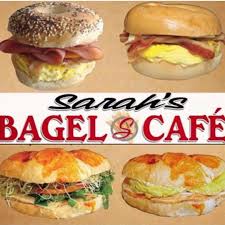 Downtown Boise is a haven for any Boise High foodie. Just walking distance from the school is a swath of restaurants and food stops for people of any palate. Most are frequented by students, but for some reason, there is a dead space on the corner of 9th and Idaho Street, the location of Sarah's Bagel Cafe.
Most people at this school have never been there, and many have never even heard of it. Sarah's Bagels is relatively new in the downtown part of Boise, moving into the old site of the beloved Andy's Deli. They have locations in Nampa and Meridian as well, which makes for a good place to stop on the way back from a practice or game or whatever else one does in Nampa and Meridian.
Walking into the downtown location, you will see a few tables and chairs, but not too many, because Sarah's Bagels is more of a quick pick up place than a sit-down restaurant. The cash register is surrounded by snacks like Doritos as well as homemade bagel chips, just in case you have the urge. Inside can be a bit confusing, because the counter is pretty tall and there's no clear ordering place, but walk to the left towards the fountain drinks, and there will be a friendly person waiting to take your order.
Their menu has all things from smoothies to bagel sandwiches to boba tea, and most of it is at a fair price. They also have coffee cheaper than Dutch Bros or Starbucks, which makes it a good place for a morning or lunchtime energy boost. Breakfast croissant sandwiches are available throughout the day and are a customer favorite.
If you are looking for a sandwich with a lot of protein, as well as flavor, Sarah's Special Omelet is a good choice. The avocado, egg, and cheese make it delicious, the mushrooms add texture, and a sprinkle of spinach is added so you can feel good about yourself, even though it's hard to taste. If you are looking to save a little money, the vegetarian bagel sandwich is highly recommended, as it is packed with cheese, veggies, and hummus, and it's only 4 dollars.
You may see a tasty looking sandwich, and wish it was on a croissant instead of a bagel. The good news is, it can be. Almost any sandwich can be put on a croissant, and any croissandwich can be put on a bagel. The downside, though, is that it costs an extra 75 cents to change, so it depends on how much you're in the mood for French.
A wide variety of smoothies is also offered, and boba can be added at no extra cost. Only two sizes are available, a small that costs $3.50, and a large that costs $5. Some of the flavors are more traditional, such as strawberry banana and blueberry, and some are more exotic. If you are feeling adventurous, you might just try the green tree coconut or the taro (a purple root that tastes a little like vanilla) smoothie.
Just an 8-minute walk from Boise High is one of the most underrated restaurants around. Sarah's Bagel Cafe has the potential to become a hotspot, and rightfully so. The food is quick, the drinks are tasty, and the employees are kind, but most important of all, it won't put a hole in your wallet.