Disney Live Action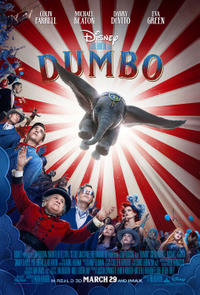 Walt Disney Animation Studios have come a long way since their first ever debut of Snow White and the Seven Dwarfs in 1937. Disney itself has expanded into the world of live action movies. The release of Dumbo on March 29th marks the 11th live action animation remake movie Disney has ever released. The first was The Jungle Book, in 1994, which was remade again in 2016. Since then, Disney has re-released many childhood treasures such as Cinderella and Beauty and the Beast.
Remaking movies is hard – they almost always receive criticism comparing them to the original. But Disney seems to take it in stride. There are currently 21 live action remakes of their classic animations scheduled. There are 5 movies post production, including long awaited Mulan, The Lion King and Aladdin. We can also expect a Lady and the Tramp revamp, with release date yet to be announced. Two pre production movies include Pinocchio and Cruella, the latter following the 101 Dalmatians storyline. Movies categorized as 'in development' include titles such as The Little Mermaid and Lilo and Stitch, with scores from Lin Manuel-Miranda.
The second live action remake film to be released by Disney in 2019, Aladdin is one of the most anticipated Disney remakes to date. However, remaking Aladdin comes with its own twists and turns. The original animation dawned a new era for animated movies. In 1992, Aladdin was strongly defined by its big name supporting character, Robin Williams, as Genie. After this came Ellen Degeneres as Dory in 2003, followed by Tom Hanks as Woody, a main character, in 1994. Animated movies were different because advertising with names didn't mean much, as their faces wouldn't appear on screen – that was all changing. Big names brought in big bucks. Now that Aladdin will be live action, it can advertise for its big name supporting roll Genie again, with even more success than before. Who isn't excited for Will Smith to take on the role of everyone's favorite blue magician?
With genies and flying carpets, following closely to the loved original plot, you won't want to miss it when it hits theaters this May 24th.
The 2020 Mulan is rumored to follow the folktale of Hua Mulan a little more closely than the Disney version of 1998, although no verifications yet. Hua Mulan is the Chinese story of a young girl who took her father's place in the army for 12 years; meanwhile, none of the her comrades notice she was a girl, contrary to how Disney portrays the story. Also, in the original tale, her parents support her the entire time, as opposed to only when she returns after she is discovered. Considering Disney's track record, we can expect Hua Mulan will still be named the hero of China, no matter what the folktale plot details.
On the other hand, The Lion King will most likely follow the original plot to a tee. It will be made up primarily of computer generated images (CGI), and is already getting fans teary eyed after just a 1:33 minute trailer. Dumbo, Disney's latest live action animation remake to be released, has gotten underwhelming reviews. Only a 49% on Rotten Tomatoes, it did not amount to what most critics had hoped it would. "Burton's colorful reimagining of Disney's 1941 classic is visually impressive and stars an adorable CGI flying elephant, but the plot and characterizations are underwhelming," says Sandie Angulo Chen from Common Sense Media.
Despite this setback, if Dumbo could even be considered one, Disney is just getting started with their chain of live action remakes. There's something on the list for everyone, so keep an eye out for the latest Disney releases.