Boise Highlights' Artist of the Year: Amelia Board
Hang on for a minute...we're trying to find some more stories you might like.
The end of the school year often has a way of highlighting the most outstanding students in different fields of academics, sports, community involvement, and art. This year's student body had much to offer in all sectors for their achievements and accomplishments. Appointed as the 2019 Boise Highlights' artist of the year, senior Amelia Board exhibited an impressive determination for her art career, as well as an astonishing contribution to Boise High.
Initiating her artistic career very early in life, Board has always found an interest in art. "Actually, my mom told me this weird story," Board shared, "my brother and sister, they would go towards their blocks and build things, and I would just go to the crayons and draw on paper."
As for her motivation, Board found herself inspired by the works of another artist in her family. Growing up, Board discovered the allure of the artworks of her great grandma suspended in the walls of her and her relative's houses.
Emphasizing her talent and skill, Amelia disclosed, "I haven't taken a lot of classes, I took drawing one, and painting one, and then just went into AP studio directly from the very beginning."
"I do a lot of digital artwork, and that's one of my favorites," Board stated on the subject of her preferred method of creating an art piece. Although her main focus is digital work, she also enjoys working with ink and acrylics, to achieve the satisfaction of the finished task.
Her achievements do not come unnoticed, as Board got into Valley Visions with her impressive work and the admiration of teachers and peers. She also revealed she produced a compilation of her art for the art show.
As for her contribution to the school, Board confessed, "Mr. Thompson, the principal, commissioned me to do some art for the new building."
Board's talent also attracted the interest from several art colleges. "It was really stressful, because I applied to nine [colleges], and I got into seven of them. And then I had to decide which one I wanted to go to," Board mentioned. After some through review, Board shared her choice, "I'm going to SCAD, which is in Georgia, very far away -I've never been to Georgia. So, I don't know how that is going to go, hopefully well."
Planning for the future, Board hopes to invest her career into an animation profession due to her interest in sequential art. With her gift for art and determination, without a doubt, she will accomplish great things in the years to come.
About the Contributors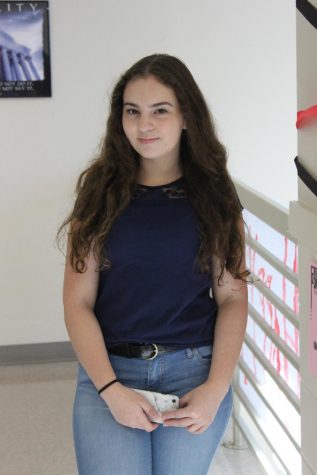 Luiza Decenzi, Managing Editor
Luiza 'Lu' Decenzi is a Junior from Sao Paulo, Brazil. She has been a part of the Boise Highlights staff since 2018 and is now a managing editor, as well...