The State of Hockey at BHS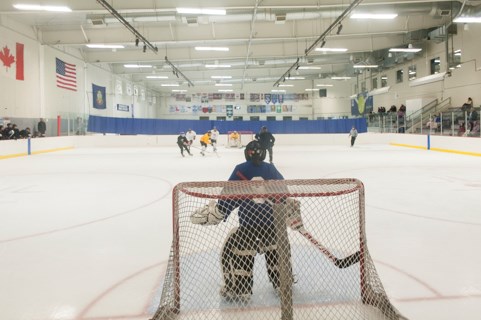 For years, school hockey has slipped under the radar of the regular Boise High student. The games had little attendance, the tryouts got few prospectives, and the team got little attention. Boise even had to combine with Timberline to find enough players to put a team on the ice. But this year, the schools have split, and Boise finally has a hockey team to call our own. Or club rather, because while Boise has enough players, hockey is still not a sanctioned sport at our school.
Hockey has always been a popular sport in Idaho. Our cold and snowy winters make the state a great place to play, and many people do, whether at rinks, on iced-over pavement, or on a frozen pond.
Hockey is especially popular in Northern Idaho, where the temperatures are more frigid. We even have our own semi-pro hockey team: The Idaho Steelheads. They have been around since 1997, and games are always popular. An affiliate of the NHL's Dallas Stars and the AHL's Texas Stars, the club is known for producing some great talent. Hockey is an Idaho sport.
Many people are calling for the sanctioning of hockey because of the benefits it will bring to the team. "Hockey needs to be sanctioned to give players a better opportunity to play because right now, hockey is kind of an underground sport. With more exposure, we could have a bigger team, and more support," says Mason Hauser, a senior on the team.
"Hockey in general is falling in popularity in Idaho, in part because we're not sanctioned. We're not able to get an arena near here. We have to drive all the way out to Ice World and it's very costly, so it's costing a lot of kids the opportunity to play hockey," he further explains. Ice World is an ice rink located  further southeast of Simplot Sports Complex, about a 30 minute drive from Boise High.
Mason says he had a few friends who he used to play hockey with as a kid who aren't playing anymore, just because they can't afford to drive all the way out there.
When students enter Boise High for the first time, there are a number of sports they are made aware of, from football to golf to track and field.
Students are encouraged to try playing these sports, and they're seen as an obvious option. With hockey, it's not something many people are aware of, so people don't consider it. Some students don't even know we have a team. You can't letter in it, so what's the point? If Boise had a sanctioned hockey team, people would be encouraged to at least try it out, and hockey would be back in the public eye of BHS.
Also, if our hockey team isn't sanctioned, then people who hope to play in college are put in a tough situation.
If they play here, they might not get the exposure that they're looking for; people might go to other schools, like BK, looking for better opportunities. "In the short term, sanctioning would mean more followers and better support," Hauser says.
"But in the long run, who knows what it could do, not only for our school, but for hockey in the Treasure Valley, and maybe even all of Idaho."
While the situation still remains unclear, one thing is for sure; there's no telling what this would mean to the players, parents, and students  of Boise High.