2020 Presidential Elections: Who is Running?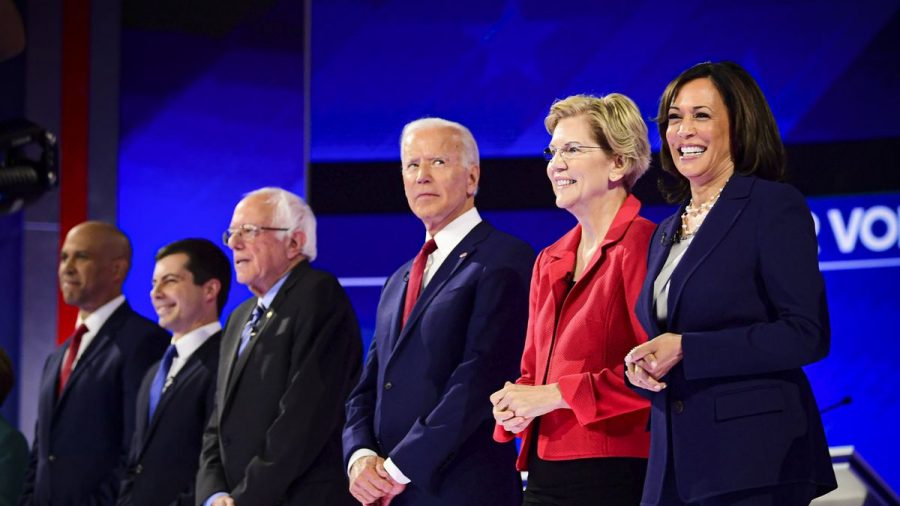 It is no secret that being the president of the United States is a highly important position. Therefore, it is important to remain informed about who is running for a position that heavily impacts our lives.
Currently, seventeen candidates are running for the Democratic Party in the 2020 presidential elections. However, at the moment, there are five main players.
Joseph Biden, former vice-president, wants to work to restore America's standing on a global scale, with the New York Times reporting, "As a former chairman of the Senate Foreign Relations Committee, Mr. Biden speaks passionately about asserting and defending America's role as a leader on the global stage."
Biden also believes in strengthening the economic protections for low-income workers in various industries, like the manufacturing and fast food industries.
Elizabeth Warren, a senator from Massachusetts, has frequently discussed the need for a "-big, structural change." Additionally, she is striving for income equality and helping the middle class, as she sees that it is being attacked by large corporations.
Warren has also released numerous detailed plans of her overall plan to help reshape the economy, as stated in the New York Times, "Her proposals would tip power from executives and investors to workers and allow the federal government to more aggressively steer the development of industries."
Bernie Sanders, a Vermont senator, is a self-proclaimed Democratic Socialist. He has advocated for progressive proposals such as "Medicare for All," with Sanders' campaign website saying, "We say to the private health insurance companies: whether you like it or not, the United States will join every other major country on Earth and guarantee healthcare to all people as a right.
All Americans are entitled to go to the doctor when they're sick and not go bankrupt…" Other core policy issues of Sanders include free public college and a $15 per hour minimum wage.
Pete Buttigieg, mayor of South Bend, Indiana, has focused on issues such as climate change and increasing economic opportunity. Buttigieg wants to build a clean energy-based society.
Buttigieg has current plans to create a more inclusive economy with his campaign website saying, "This initiative includes investing in entrepreneurs from underrepresented backgrounds."
Kamala Harris, a senator from California, unveiled a middle-class tax cut legislation last fall. She considers herself to be, "-a fearless advocate for the voiceless and vulnerable." As president, Harris plans to reform the justice system and create a more inclusive economy.
As for the Republican party, there are only four candidates currently running.
Donald Trump, the current U.S. president, continues to run on the platform of restricting immigration and building a wall along the Mexican border. He's also working towards renegotiating international trade deals and withdrawing American soldiers from overseas conflicts.
Throughout his presidency, Trump has worked to undo the Obama administration's policies such as: health care, environmental regulation, and immigration.
Joe Walsh, a former congressman from Illinois, considers reducing the national debt, restraining executive power, and border security to be key issues. He's also passionate about defeating President Trump, who he believes, "cannot be trusted."
William F. Feld, a former governor of Massachusetts, favors reduced government spending as well as trade with little to no government tariff. He has also supported steps to moderate immigration reform and legalize marijuana.
Mark Sanford, former South Carolina congressman, is a fiscal conservative. He claims he will use his presidential campaign to bring America's increasing debt to the front burner of conversation.
In regards to how each candidate is doing in the polls, Scott Arnold, an AP U.S. History teacher, says, "Mr. Trump, he's running practically unopposed."
Regarding the primaries, he went on to say, "It's a slam dunk for Mr. Trump. Well, it's possible that somebody could challenge him in the primaries because we haven't started those yet.
I think it's unlikely that will occur unless something disastrous happens for Mr. Trump and the Republican Party."
As for the Democratic polls," Arnold said. "Over on the Democratic side, there seems to be the Biden, Sanders, Warren trifecta with Mr. Buttigieg perhaps sneaking into the conversation."
However, the public has not yet favored a candidate.
"It's so early in terms of the Democratic side," Arnold said. "At this point, I don't think there are any indicators as to who's going to emerge as the Democratic choice."