Take Me Out To The Madrigal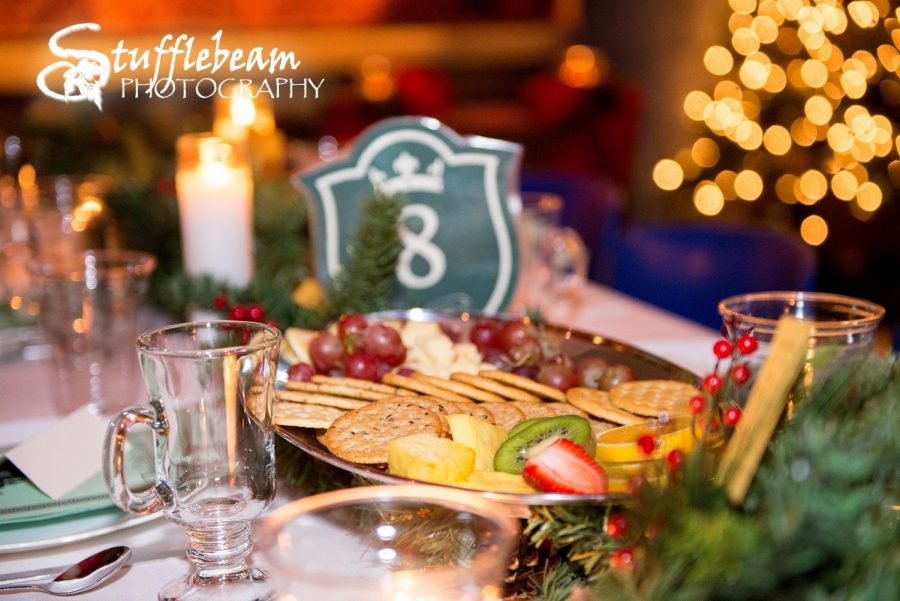 The main hall is cavernous and lively. Rows of tables embellished with ornate garlands line the chamber; elegant candles perched atop delicate cloth cast their soft, golden hues. Servers – in their brisk strides – leave a breeze in their wake, presenting guests with delectable food and steaming wassail. Among the muted buzz of conversation, the Royal Court toasts in celebration for the festive night to come. This is not just any choral concert: This is Madrigal.
The Madrigal Dinner is an annual event hosted by Boise High School Choirs. Occurring on the Friday and Saturday following Thanksgiving break, Madrigal takes a step back in time to the Renaissance Era. One section of the Cathedral of the Rockies is transformed into an extravagant dining hall. Students dress in old-fashioned attire, interacting with guests, while maintaining their self-developed Renaissance character.
Stephanie Stoddard, a senior who has participated in the event since sophomore year, describes the atmosphere as "magical," where a remarkable sense of community takes place.
"…between the audience and performers, you feel this connection," Stoddard says. "You don't get to do that during a normal concert."
Boise High Junior, Luke Leithauser, talks about the hours of preparation that goes into putting on such a large-scale production.
"Every day in class, we're either going over the music or the play…there's outside rehearsals that are typically student-led," Leithauser says.
"Just setting up the hall takes a week," Stoddard adds.
Throughout the night, every choir will sing their own set of Renaissance pieces. There will be intervals where guests can enjoy side ensemble acts and converse with their party.
The Madrigal Dinner is the biggest production Boise High Choirs put on for the year. It is also a fundraiser to help the choirs pay for future activity expenses. Both Stoddard and Leithauser agree the months of preparation and hard work needed in order to present an impeccable show can be highly stressful and demanding. The payoff, however, is always worth it.
"People enjoy the fact that we are not just singing: we are also entertaining," Leithauser explains.
The Madrigal Dinner is a tradition not only for our school but for the community as well. Stoddard explains that even parents and grandparents who don't have kids at Boise High still come back every year.
Tickets for Madrigal are available on the Boise High Choir website – priced at $25 per person. The evening kicks off at 6:30 p.m., filled with delicious food, jubilant music, and plenty of cheer. Prepare to depart from Boise and enter the greatest Renaissance celebration of the year, and experience a timeless night at the Madrigal Dinner.
About the Writer
Callie Rice, Managing Editor
I am a senior at Boise High, and this is my second year on the Boise Highlights staff. Cats are my favorite animal, and I volunteer at a cat shelter to...