Soccer Mama Drama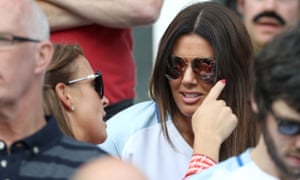 While you were enjoying the break from school and the warm weather of summer, a social media storm was brewing over the British Isle. This storm would come to implicate an unlikely detective, an unborn child, and a British tabloid newspaper. Two friends would suddenly become enemies. Two very high profile figures would be caught in the middle, torn between friendship and marriage, between what they love and who they love. And eventually, a host of celebrities would come out in support of one of the people involved. 
It all started when the wife of English soccer star Wayne Rooney, who now is a player-coach at EFL Championship side Derby County, noticed that some of her personal life was being published in a British tabloid newspaper called The Sun. She was curious, because many of the stories were things that didn't seem important enough to share outside of her friends, such as the Rooney's basement flooding. 
She decided to mount an offensive against the person who she thought was giving her personal details to The Sun. Coleen Rooney blocked everyone from seeing the stories on her personal instagram account except one. For 5 months, she posted a series of fake things on her story, and sure enough, they made their way into the tabloid, one by one. 
After making sure that she knew the culprit, she decided to accuse them, publicly. She took to Twitter, and posted a long, carefully written piece revealing who had been giving her personal details to The Sun. It was Rebekah Vardy.
This came as a shock, especially because Rebekah's husband, Jamie Vardy, is another famous soccer player for Leicester City, in the Premier League. Along with being very good friends, Jamie Vardy and Wayne Rooney played together for the English National Team in multiple FIFA World Cups and other competitions. 
Rebekah quickly got on Instagram to defend herself, saying that many people have had access to her account, and she would never do something like that. She also expressed her disgust that Coleen Rooney not call her first, and that she publicly accused her. "I liked you a lot Coleen and I'm so upset that you have chosen to do this, especially when I'm heavily pregnant." 
She later went on to say that her vacation in Dubai with her husband was ruined, on account of all the stress that Coleen had put her through, and that she would be returning to England sooner than planned. 
On their role in this unfolding drama, The Sun has thus far declined to comment, but has done some work on their website. They deleted the story about the Rooney's flooded basement, only to repost it with a thousand words of completely unrelated content and a little note at the bottom. "On Wednesday October 9th, Coleen Rooney said that she made this story up in an effort to find out who was leaking to the press."
Wayne Rooney and Jamie Vardy have kept the conflict at arms length, not wanting to create any further drama. Jamie did like Rebekah's instagram rebuttal to Coleen's accusations, but that can mean as much or as little as anything else. They have allegiances, to their wives, families, and friends, so to throw too much weight into the scrap could be a bad thing.
As the situation continues, much of the drama will die down. But who is right and who is wrong is up to you.