California Mexican Food is Here to Serve Boise Around the Clock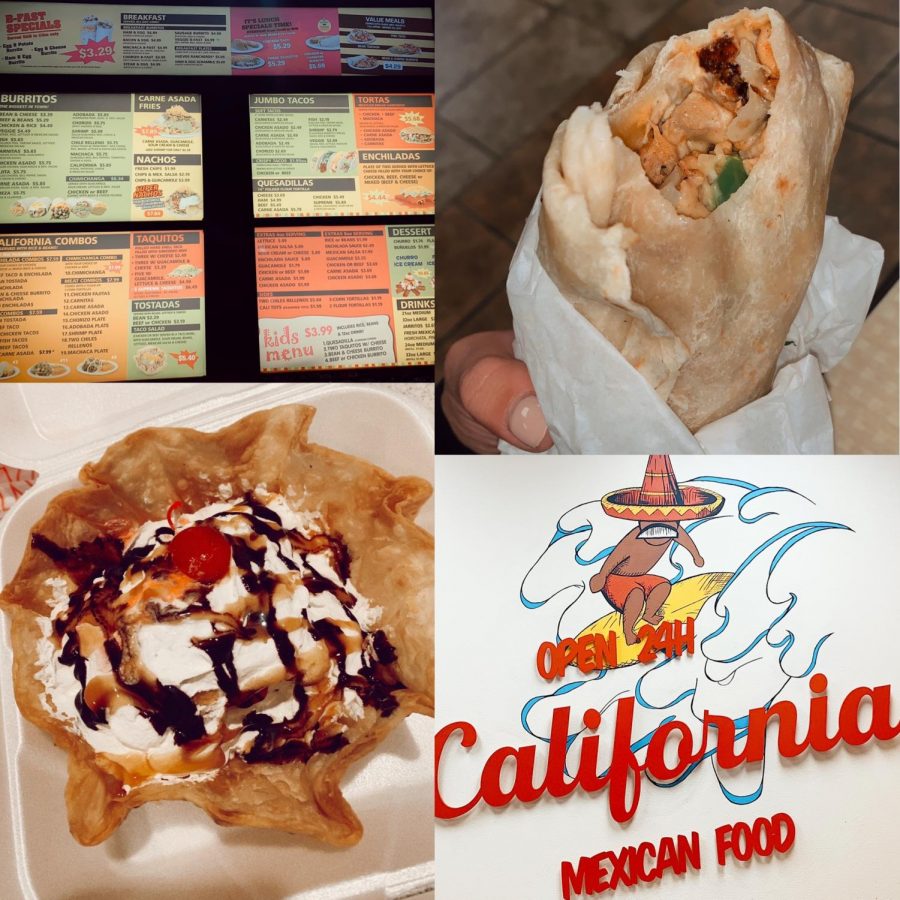 At the end of January, a new Tex-Mex inspired restaurant popped up on the intersection of Five Mile and Fairview. Previously home to Zimm's Burger Stache, the location is now home to California Mexican. The restaurant offers a dine-in and a drive-thru option that are both open 24 hours. Inside the casual dining area, there are booths and tables typical of any fast-food chain. The interior is clean and simplistic, featuring playful logos throughout the room. There are homey touches within the space that pull it away from the chain restaurants that it may be comparable to.
They offer complimentary coffee, a large salsa bar with a great variety, and more authentic Mexican beverages.
The menu has typical Mexican foods, like tortas, burritos, tacos, and quesadillas. It also features some more original options like fried ice cream, churro sundaes, and carne asada fries. There are breakfast options available as well, making it a good stop for any meal of the day, whether it be at 5 a.m. or 11 p.m.
The customer base for California Mexican is undoubtedly there. The drive-thru line was consistently 5-8 cars deep and the diner was taking a constant flow of orders with 90% of the seats full during dinner hours. Despite this, the service was incredibly fast. My food was made within 5-10 minutes of my initial order, and the employees were pleasant, yet not overbearing. Customer services and timelines were two of California Mexicans' top qualities. The food is a very Americanized version of Mexican options. Although less authentic, the food is fresh and doesn't have the downfalls of many fast-food chains. I ordered the fajita burrito for my main dish and was pleasantly surprised. The pepper and onions were well cooked, the chicken was high quality, and the burrito wasn't greasy. I topped mine off with pico de gallo and avocado jalapeno salsa to add extra spice. It wasn't the best burrito I've ever had but it was enjoyable, fast, and easy. The portion was large and I ended up eating my burrito in two separate sittings. I also tried out the fried ice cream. The dish was a fun take on the classic fair food. The crunchy coated dessert was placed in a fried tortilla and garnished with whipped cream, chocolate sauce, and a cherry on top. This was an item that is perfect for sharing with a friend and is a niche dessert that you can't get at other places in Boise. I would take a dessert trip to California Mexican just for an outing with my family or even as a cheap, fun date option.
I will be returning to California Mexican to explore the menu some more. There are some really cool aspects to the restaurant that is fresh for Boise that will hopefully give the business longevity.
The ease of the drive-thru accompanied by the low prices (nothing on the menu is over eight dollars) makes this an accessible option for teens on a budget and busy folks with tight schedules. I would recommend giving it a try.
Whether it be for an early breakfast, a late-night snack, or a quick lunch break, California Mexican will be open and ready to serve.