Boise Mall Shooting
Regardless of the politics, a tragedy happened.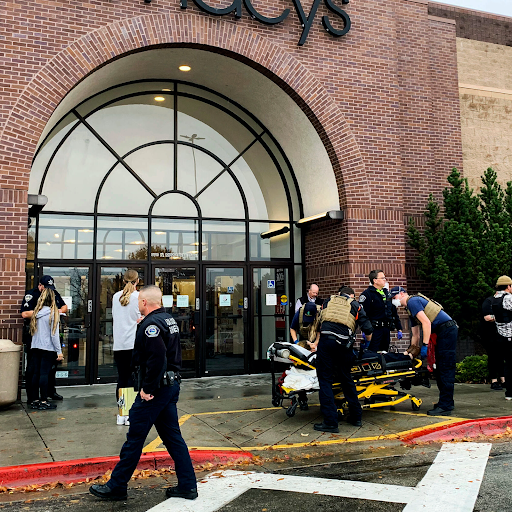 Last month, a tragedy in Idaho was under the national spotlight. Two civilians lives were lost along with the shooter. The motives are unclear, the effect is lasting and it leaves the community with nothing to grasp at but anger, fear, and helplessness. 
The shooter, Jacob Berquist, 27, has a lot of controversy surrounding him. There was a large amount of misinformation regarding the shooting itself. The facts are this: The suspect opened fire after a short conversation with security guard Jo Acker, who had come up to him, shooting her in the back. He then ran through the mall, sprinting down the escalator and killing an older man while injuring two others. He then ran outside the mall and began shooting at law enforcement which had responded to the scene. One officerwas injured and another had a chunk blown off his hat from gunfire. Eventually Berquist was shot by police officers and brought to the hospital, where he died from his wounds. 
Since those events, various public officials have offered their opinions. In the mall, guns are not allowed. Lieutenant Governor, Janice McGeachin, has argued that if guns were allowed, this tragedy could've been prevented. Another Idahoan, gun rights advocate Mike Brown, says that Berquist should not have had a gun. As a convicted felon (committing retail theft in Illinois), he was supposedly federally prohibited from possessing one. Although there seems to be some debate, about how this law is applied in Idaho. 
Regardless of the politics, a tragedy happened. A man, who "maybe" shouldn't have had a gun, and had a history of open carrying, brought his weapon into a place where guns were prohibited and started shooting. And once he started shooting, little could be done to stop him.
A shooting is sudden and horrific, and the families of those affected suffer more than one can imagine. Campaigns have been established to help both victim's families through Gofundme: Jo Acker Memorial Fund and Robert Padilla Memorial Fund, respectively. Dontaions are also being accepted at any ICCU branch.