NBA All Star Break 2022
The Grizzlies have found their star for the next fifteen years.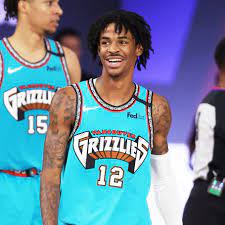 There have been many developments this season with the NBA that have felt like breaths of fresh air. For the first time since Michael Jordan's Bulls won in 1998, the Eastern Conference has more quality teams than the Western. Many teams have been building quality rosters, either through the draft like the Cavaliers and the Hornets or through free agency like the Heat and the Bulls. But what about the rest of the league? Who's trending up and falling down at this moment? Let's explore.
Falling Down- Los Angeles Lakers
What was supposed to be one of the greatest teams ever assembled has fallen apart by the seams. In an effort to chase championships, the Lakers in four years have gone from the youngest team in the NBA to the oldest. Most of the Lakers on the team this year were not on it last season, and this has led to many chemistry problems. The big trade of the offseason was acquiring Russell Westbrook from the Washington Wizards, and that has failed miserably. The team is dead in the water, relying solely on Lebron to win games. There play looks awful and unconvincing, and there future is certainly bleak
Trending Up- Memphis Grizzlies
The Grizzlies have found their star for the next fifteen years. Ja Morant is only 22 years old and is averaging nearly thirty points per game, bringing a massive impact to the league and the franchise. The Grizzlies did not expect to be so good this year but are currently sitting at third in the western conference, five games behind first place. With such a young team, time will tell how they perform down the stretch and in the playoffs, but if Ja Morant continues his production they should make a deep run. 
Trending Up- Milwaukee Bucks
Some of the wins that the Milwaukee Bucks have been putting up in these recent weeks have been massively impressive. They have blown out some of the best teams in the league, including the Nets and the Warriors, by scores of 20 and more. Giannis Antetoukoumpo is without a doubt in my mind the best player in the world, no one can stop him. His size, speed, power and attributes are simply too much to handle and it opens up ample opportunities for his teammates to score. The Bucks are built to win a championship.