Moving: The Impact on Teens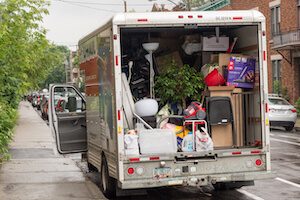 Moving is a common occurrence. The average person moves 11.7 times in their lifetime (Move Buddha). When it comes to teenagers and children, they don't have any say. All it takes is for one decision from their parent(s) and their entire life could be uprooted. 
While the effects of moving can be positive, the science does not apply to all cases. Studies have shown that moving as a child or teenager can have negative effects on mental wellbeing.
Scientists Tim Morris, David Manley, Kate Northstone, and Clive E. Sabel conducted a study to discover the correlation between moving and the mental health of the children affected. What they uncovered is that: "residentially stable children have more variable mental health than movers." (Science Direct).
Their study was done on the mental health of children who moved and who remained residentially stable. A large part of this was finding out what the main causes for the decline in mental health were. Selective migration, life events, and the neighborhoods themselves, each play a large part in this. 
Selective migration refers to the idea that people migrate towards others with personalities most similar to their own, or to places that attract their personality. This affects mental health in the sense that if you are a person prone to poor well-being and you move to a new location where others also have poor well-being, it will only be exacerbated. 
In general, big life events always have an effect on mental health. Whether it's positive or negative, change is still difficult. This is not something new, given that things like divorce, parental loss, job losses, and new family members are widely accepted as causes for mental health declines in teenagers. In additon, children and teenagers have been known to need stability. However, this aspect of mental health related to moving has more recently been considered. The association with life events and poor mental health has the strongest correlation. 
Similar to selective migration, the very neighborhood someone chooses to live in has an effect on mental health. If a family were to move into a neighborhood with few children or economically and environmentally deprived neighborhoods, it could have a negative effect on the children and teenagers. However with children and adolescents the results were  different. Location played a part, but their findings suggested that the effect on mental health had more to do with the act of moving itself rather than the environment, as opposed to adults, where the environment had the most effect. 
Overall, there isn't much of a solution to this except for having awareness. If parents are going to move their children from a place they consider home, it is best to be sensitive to the effects it may have on them. The study showed that the best solution was communication, and making the child feel involved.