The Holidays Sans Santa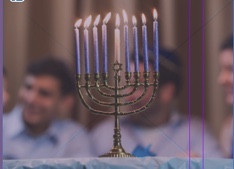 During the winter, a lot of places begin decorating in typical Christmas colors of green and red lights and ribbons adorned with classic Christmas trees. However, so many more winter holidays are celebrated around the world. Let's take a deep dive into what some of these traditions look like.
For eight days and nights, Jewish people worldwide glorify the Maccabees' victory over King Antiochus, a man who forbade Jewish people to practice their religion. The dates of Hanukkah change every year because the holiday has a lunar cycle, but it usually falls in December. Hanukkah is celebrated for eight nights including the lighting of the menorah, and food. People sing songs, play games, and swap gifts. Latkes, or potato pancakes, are traditionally made on Hanukkah and are served with applesauce and sour cream. A fabulous holiday to show their pride in their culture and religion.
The Hopi and Zuni tribes in North America commemorate the solstice with a holiday called Soyal, also known as Soyala. The holiday lasts for sixteen days with ceremonies that signify the sun coming back to the earth after the winter solstice. The celebration includes prayers, songs, and dances with traditional costumes and masks take part in this colorful festival.
Kwanzaa, a holiday invented by Dr. Maulana Karenga is to practice African heritage and culture and is held from December 26 through January 1. People gather with their family and friends to exchange gifts and light candles with specific black, red, and green colors. These specifically colored candles symbolize the seven fundamental values and worth of African American family life: self-determination, unity, responsibility, purpose, creativity, dignity, and faith. It also includes a feast of the dedication, called Karamu Ya Imani.
In  Chinese culture, Chinese New Year is the main holiday. It falls on different dates each year, sometime in January or February, depending on the lunar calendar. It includes traditional dances, fireworks, and elaborate parades. This fete lasts for about 15 days, and although acknowledged in winter, it's also called the Spring Festival because it marks the end of the coldest part of the year. Many people go home to friends and family to commemorate this holiday. People hang decorations in red, the traditional holiday color, and give gifts wrapped in red packages. 
In Latin America and other places that have Hispanic culture in the United States, you can find Catholic people praising Las Posadas or "The Inns'' between December sixteen and twenty-four. Families toast to the journey of Mary and Joseph in Bethlehem. Each evening during the celebration, a child clothed like an angel leads a parade through the town's streets. The festival ends with a beautiful feast at the Cena de Noche Buena (Christmas Eve Dinner). Some classic dishes include romeritos (baked shrimp), bacalao (dried cod fish), and sweet and sugary buñuelos (donuts). The tradition is an example of how the Catholic religion in Mexico was adapted with indigenous beliefs. You can also see families in Guatemala and parts of the Southwestern United States honoring Las Posadas.
So, if Christmas isn't your thing, there are lots of other reasons (and ways) to celebrate. There are so many gobal celebrations out there – many you've probably never head of – but taking a moment to understand just a few could be valuable to achieving a better understanding of the world we live in. And now,  you can extend your holiday season even longer!