Ballin' With The Boys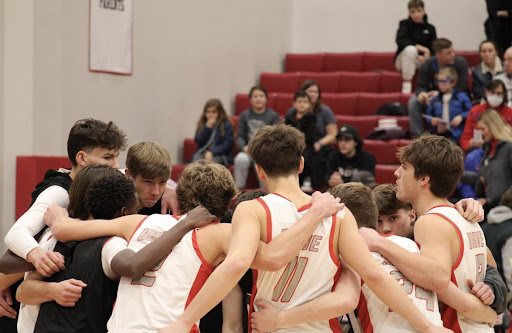 As the new year starts and school gets back in session, district and state tournaments are right around the corner. The Boys Basketball team is no exception. As the team plays their final regular season games, playoff chances are in their grasps and the entire school is cheering alongside them. 
The team has seven more regular season games before tournaments start, the last being February 7th against Timberline. After that, Sophomore and JV District tournaments will be held the 11th, 13th and 15th of February. The Varsity District play-in will also be held on February 11th. Following that, the District tournament will be held the 14th-23rd, with the top 6 teams from the district making it. Although there isn't a guarantee that the boys will make it to the tournament, their hopes are high. Duncan Thompson, Junior #22, says, "I think we will make it. We have a good record and we should continue to win." 
After Districts comes the State Tournament. In order to make it to State, the team has to win one game at Districts. As the tournaments start approaching, the boys are getting excited and amped up. Jack McQuesten, Senior #20, says, "We are definitely trending upwards. We will be playing our very best in Districts and State." 
No matter what happens in these next few weeks, the team has had an awesome season so far, with many fun memories. They have been working hard as a team and it has been reflected with how good they have been doing on the court. Throughout the season, they have created a bond like no other. Jack McQuesten explains, "My favorite part about the team is how close we are. Everyone is willing to stand up for each other and stick together." 
Go cheer on the Boys Basketball team as they finish up their season and hopefully make their way to State. They have four more home games, one being tonight against Capital, which gives everyone the perfect opportunity to go show their support for these boys.