Puss in Boots: The Future of Animation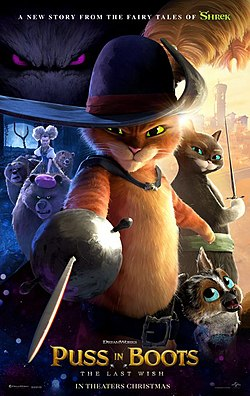 On December 21, 2022, the world of cinema changed forever. Despite being canceled once in 2015, the highly anticipated sequel to Puss in Boots finally released after 11 years in development to raving critical acclaim. Sitting at an 8 out of 10 on IMDb, a 4.8 out of 5 on Google, and an 86% on Rotten Tomatoes, alongside a nomination for Best Animated Picture at the Oscars, fans and critics alike loved it.
While not being the most thought-provoking or inspiring piece of art, Puss in Boots: the Last Wish puts its new stylized type of animation to work, creating a masterful blend of stop motion-esque backgrounds with fluid, vibrant, and exciting main characters that danced beautifully around the screen. The animators at Dreamworks clearly took inspiration from other recent animated films such as Into the Spiderverse or Mitchells V.S. the Machines, blending 3D with traditional 2D art styles to help create depth and focal points.
This art style helped viewers focus on where the movie clearly shines – the characters. Of course, being the titular character, Puss in Boots was masterfully developed and fleshed out with a strong backstory and clear motives for the decisions he makes. Similarly, the two main supporting characters Kitty Softpaws and Perrito were surprisingly well developed. Specifically Perrito, who is first  introduced as a "comic relief" type role, quickly surpassed my expectations and played an important role in the story as well as Kitty's and Puss' character arcs. 
The villain, the Big Bad Wolf, was also amazingly well developed. His signature whistle created an ominous aura whenever he was near the lead characters, and his simple design was still extremely powerful with just a hood and his two blades. Wagner Moura's performance as the Big Bad Wolf was chilling, adeptly personifying death and bringing a level of fear that took the wolf's character to the next level.
Puss in Boots: the Last Wish was nominated for Best Animated Picture at the Oscars, alongside Turning Red, Guillermo del Toro's Pinocchio, Marcel the Shell With Shoes on, and The Sea Beast. This is Dreamworks first nomination for Best Animated Picture since 2014 for How to Train Your Dragon 2, and despite being up against some tough competition from A24 and Pixar, I believe that Puss in Boots has a strong chance to win. The creative choices made with animation and character design set it apart from other, more traditional competition this year. Where Turning Red or Marcel excel in story or societal commentary Puss in Boots hits back with its powerful direction choices and stellar voice acting. 
I believe that Puss in Boots is the first glimpse of a bright future for Dreamworks and animation as a whole. It shows that what once was viewed as a children's only genre can be entertaining for people of all ages and tell interesting, compelling stories. As a fellow Boise High student Cory Liddle said, "It does all The Godfather tried to in less than half the time."