Justice for Phillips and Pereira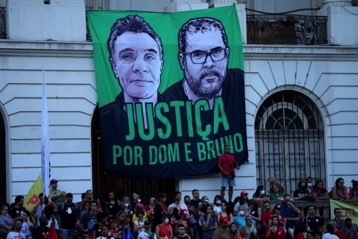 Brazilian officials have identified a gang leader who claims to be a Colombian fish trader as the criminal behind the double murder of British journalist Dom Phillips and Indigenous expert Bruno Pereira. This crime drew global attention to the Amazon rainforest.
The two victims were researching and planning to write a book. Dom Phillips, a journalist who has worked with the New York Times in the past, had planned to write about the sustainability in the Amazon. 
The disappearance of the two men ignited worry about the threats that environmentalists, reporters, and Indigenous leaders receive while working in the region. Illegal loggers, miners, and drug traffickers compete for resources and territorial control. After ten days, the search for the men ended when Amarildo da Costa de Oliveira, a fisherman, admitted to committing the murders. He led the Brazilian police to a burial site about 1.8 miles into the forest. 
On the day of their disappearance, Pereira reportedly had evidence of illegal behavior toward officials in the community, Atalaia do Norte. They have been doing examinations of illegal fishing performances in the area. Both Dom and Phillips were eventually shot to death. Prosecutors have said Phillips was likely killed only because of being with Bruno Pereira to ensure impunity for the prior crime. Three men were charged in July for their roles in the murders, including the fisherman. The gang leader, Villar, nicknamed "Colombia," is being charged with operating an illegal fishing operation in the Amazon that suffered financial losses due to Pereira's work. Police said he financed impoverished locals to fish in the Javari Valley Indigenous territory illegally. 
Villar was already in police custody when the statement came out. He faces further charges for faking Peruvian identity papers to carry out illegal activities and using a false Brazilian birth certificate. During a discussion in Manaus, federal police charged Villar with providing the weapons used to kill Pereira and Phillips. 
Officials also mentioned that Villar paid for his lawyer and called the confessed killer before and after the shootings. Villar has denied the allegations. A union of Indigenous peoples, the UNIVAJA, believes more criminals are behind the murders.