Adult Legos: Imaginations Has No Age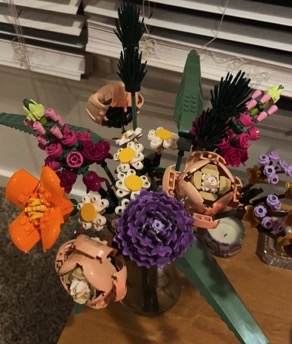 Commonly thought of as kid's toys, LEGOs have been making a strong comeback and let's just say I'm more than here for it. Over the past few years, LEGO has started to make sets that are more advanced and directed more at the older generation of builders. They have released many sets that look more on the mature side and that could actually be used as house decor, such as their flower or architecture sets. I am quite possibly in love with every single one, but here are some of my top favorites. 
As of right now, the LEGO flower bouquets are my number one pick. For a while now, LEGO has had the regular flower bouquet, an array of pretty pastel flowers and greenery. However, in February, LEGO released their new wildflower bouquet. The shapes of the flowers are pretty similar to the OG set, but the colors are much more vibrant and vivid. I personally have the original flower bouquet and it's definitely my favorite LEGO set that I own. It was really fun assembling them because almost every flower is different. They are also the perfect decoration for your room because unlike normal flowers, they never die. Both of these LEGOs are from the Botanical Collection which is by far my favorite collection LEGO has made. 
Next up, I have both of LEGO's gaming console sets: the Nintendo Entertainment System and the Atari 2600. Not only are both of these sets very nice to look at, they also have really cool features. The Nintendo set has four different parts to it: the console, a TV, the remote, and the game cartridge. The TV displays the Super Mario game with a lever on the side. When you spin the lever, the game displayed on the "screen" moves and it looks like an actual Super Mario game. The Atari comes with the game console itself, a joystick and three cartridges. It has a similar feature to the Nintendo; It has a small diorama that pops out and displays the three games included. I think LEGO did a super good job on both of these sets and the interactive details they added take them to a whole new level.
Two more LEGO sets that I would love to add to my collection would be the Vespa and the Porsche, or any other vehicle set LEGO has made. The Vespa is a light baby blue color that looks like they took it right out of 1960's Italy. It has a basket on the back with flowers inside, as well as a helmet to complete the look of the moped. The vehicle also has an engine on the side with a removable cover to show it off. It always amazes me how much detail LEGO puts into their sets, and this one is no exception. I think LEGO also did a really good job on their Porsche 911. One cool feature about this vehicle is it's a convertible, so the top of the car actually comes off and is stored under the hood. Another good example of LEGO's attention to detail.
These are just a few examples of the many adult sets LEGO has to offer. I think we should start to normalize all age groups building LEGOs because they aren't just for kids and teens. LEGOs are for everyone.