A Journey Through the Years: Taylor's Version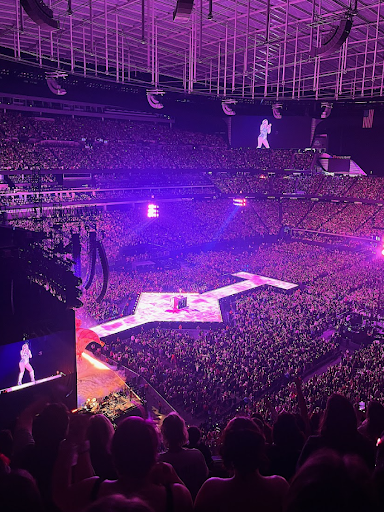 On November 1st, 2022, Taylor Swift announced her sixth concert tour, the Eras Tour. The last time Taylor played live was in 2018 for her Reputation Stadium tour. Since then, she has released four new albums and has wanted to showcase them. Fans have been dying for her to go back on tour and this was the perfect way to make a return. 
When creating and planning out the tour, Taylor Swift had one thing in mind. She wanted the tour to be a "journey through the music eras of my career." Taylor has done everything in terms of music and genres. She's released country-like albums all the way to indie bangers. Taylor explained that she loves getting to experiment with different types of music and she wanted to showcase this with the Eras Tour. 
So what exactly is an "era"? Every album and phase in Taylor's life has had a distinct vibe. Her first era is marked by her self-titled debut album. This album featured some of her classic country songs like "Teardrops on my Guitar" and "Our Song". After that album, she released Fearless, which is marked by sparkly dresses with a hint of cowboy. This album features songs like "You Belong With Me" and "Love Story". Her next era was Speak Now. When most fans think of this era, they think of purple. Taylor is seen wearing a purple dress on the cover of the album and performed songs from this album in a purple dress. 
After the release of these three albums, Taylor Swift released the album Red, which marked her shift from country music to more pop-like songs. She also started to transition her looks, wearing less sparkly outfits and more vintage looking pieces. Following Red, Taylor created the 1989 album that went along with similar ideas from Red and established her as a pop icon. Next up is Taylor's villain era with the album Reputation. This era is represented by dark makeup looks and snake themed outfits. This was the last album Taylor went on tour for before the Eras Tour. 
The four albums Taylor released after Reputation were Lover, Folklore, Evermore, and Midnights. Fans know the Lover era by bright pastel colors and rainbows. She was supposed to go on a Lover Fest tour, but it was canceled because of COVID-19. The Folklore and Evermore eras were created during quarantine and had a very cottagecore and indie vibe. Taylor even made an actual Folklore cottage that encapsulates the vibes of both albums. Her most recent album was Midnights. For this era, she went down a darker path and wore more darker styled outfits. 
All of these put together have created the magic that is the Eras Tour. At her concerts, Taylor does an amazing job of marking the end to one era and the start to another. The stage completely transforms to match the vibe of each album and Taylor has an outfit change for every era. Whether you are a die hard Swiftie or just an average fan, there is no doubt that Taylor Swift can put on a good show.