Get Ready to Rock Out: Kilby Block Party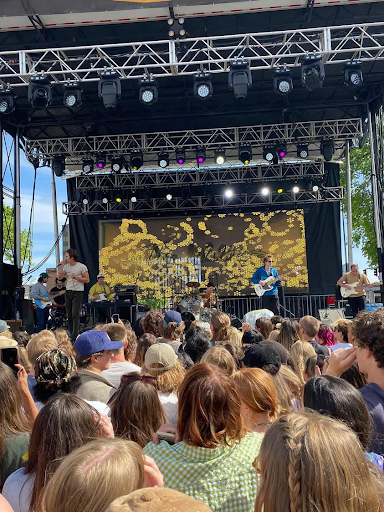 Students looking for a fun getaway towards the end of the school year should look into Kilby Block Party. From the 12th of May to the 14th, many bands are gathering in Salt Lake City to play. Open to all ages, the Kilby Block Party takes place at The Utah State Fairpark in downtown Salt Lake. Headlining the festival this year are The Strokes, Pavement, and the Yeah Yeah Yeahs – all behemoths of the 00's indie/alternative rock renaissance. Alongside those three are The Pixies (another alternative rock group this time from the late 80's), Run The Jewels (a hip hop duo from the 2010's who's most recent album was released in 2020 and are confirmed to have a fifth in the works), and Dominic Fike (a solo singer/songwriter who started in 2017). Other notable bands include Japanese Breakfast, The Backseat Lovers, Hippo Campus, Alex G, Surf Curse, Duster, Faye Webster, and Weyes Blood.
Started in 2019 to commemorate the 20th anniversary of the Kilby Court, 2023 marks Kilby Block Party's 4th annual show after a one year break in 2020 due to Covid complications. In previous years bands such as Death Cab For Cutie, Ritt Momney, and Built to Spill all performed. In 2022, Kilby Court had its first multi-day festival and hosted bands and artists such as Car Seat Headrest, Clairo, Mac DeMarco, Animal Collective, Phoebe Bridgers, and Soccer Mommy.
While three day VIP and Super VIP passes are sold out, along with one-day Super VIP passes for Friday, Saturday, and Sunday, three day general admission tickets are still on sale for only $219. Single day passes cost $89 and get you into all shows on any one of the three days.
Kilby Block Party came from small local roots, hosting concerts for those in the greater Salt Lake area, and in just five years became one of the biggest indie music festivals in the United States. Starting with hosting local friends of the organization like Death Cab For Cutie, the organizers of KBP have grown tremendously to getting international stars such as The Strokes or Run The Jewels to play for audiences of over 10,000 people.