Fear, Anxiety, And Hope For Boise's DACA Recipients
Hang on for a minute...we're trying to find some more stories you might like.
DACA. By now, those four letters have rolled across many a television screen and appeared on countless newspaper headlines. After the federal government shut down in part because of arguments over Deferred Action for Childhood Arrivals, a program that allows people who arrived in the US as children to remain without fear of deportation, it seems that almost every news outlet has churned out multiple features on the program and its impacts.
In the midst of the constant arguing over programs and policies, it can be easy to forget that real people are behind that acronym. Real people who live alongside us, work alongside us, and attend high school with us.
One anonymous Boise High student and DACA recipient says that at first, having DACA status didn't seem like that big a deal. "All it really did was let me drive and get my license and get a job," she says. Bigger benefits seemed like they affected others: "For other people, it allowed them to have a better paying job, to get better housing."
That was back before DACA was a household word. Since then, being a DACA recipient (or 'Dreamer') has gotten more complicated–especially for college applicants. "[Having DACA] means college is even harder to pay for," says the student. "I can't get FAFSA, even though I would benefit from it. I can't get state funding. I've gone to school in Idaho since kindergarten; however, I wouldn't get state tuition [for state schools]."
The increased focus on DACA in the news can also mean increased anxiety, as what was once a distant fear becomes a real possibility: deportation. "I don't think I can physically comprehend being deported," says the student. "It's like the bogeyman in the closet: I know it's there but I don't want to open it."
She's lived in the United States since she was a preschooler, and it's the only place that feels like home. "You know when you go to a French restaurant, and they're talking in this different language, and you don't really understand the culture, and you don't really understand what they're saying, or the food?" she asks. "That's what would happen if I went to Mexico. I would not fit in at all, because I have no idea what it's like over there."
Despite the stress, there are benefits to DACA's increased publicity. "I didn't think anyone cared, because I never heard about it," the student says of the time before DACA was a public debate. Now, with more awareness of the policy has come activism, and rallies in support of Dreamers. And even though political action on Capitol Hill hasn't amounted to much, the work of politicians on behalf of Dreamers hasn't gone unnoticed. "We [Dreamers] can't vote, and [Democrats] are still trying to get it passed, which is kind of amazing," says the student.  "I think I'm American in every single way, except on paper, and so for other people to accept that part of me was really really heartwarming. I didn't realize people actually paid attention."
Now that people are paying attention, this Dreamer has a message for her fellow classmates: "DACA isn't something that's just out in Nampa, or California, it's literally your classmates," she says. "It's the girl who helps you with your math homework in class, it's the people around you.  I'm just a normal person. I hang out with my friends, I'm like every other kid."
Right now, she's trying to focus on that part–the "normal kid" part of high school–instead of the fears and uncertainty. As for the future?
"We'll have to see what the administration does. We'll see if it goes through. We will see."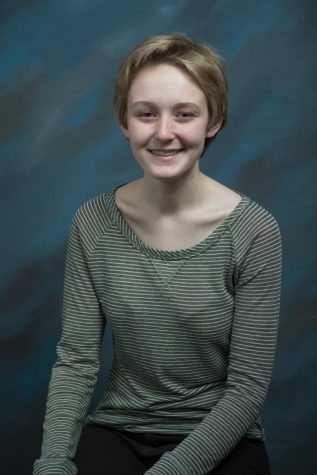 Alex Swerdloff, Social Media Editor and Reporter
Alex is a senior and has been on Boise Highlights staff since 2017. As Social Media Editor, she manages the paper's social media accounts. In addition...