The New Silk Road
China's New Monopoly on Trade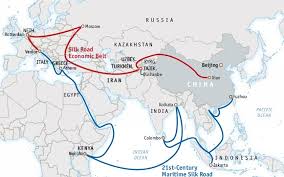 Hang on for a minute...we're trying to find some more stories you might like.
Five years ago, in 2013, Chinese president Xi Jinping proposed a plan to revive the success brought on by the infamous historical Silk Road trade route but with a 21st spin.
Jinping's unveiling of what he referred to as the "One Belt, One Road" is acting as another mechanism to initiate not only increased trade relationships, but further develop infrastructure within Asia. Much like the startup of the Asian Infrastructure Investment bank (AIIB), the revitalized silk road is a step towards a much deeper Chinese initiative: regain domination within Eurasia.
Revitalizing history's most flaunted trade route into a sleek and modern catalyst involved the linking of Asia, Europe, and Africa using the expansive infrastructure proposals made by President Jinping.
With a starting budget of $100 billion, the expansive and elaborate trade system of new roads, railways, pipelines, and ports.
Originally proposed as a multilateral trade route and infrastructure development plan, the "One Belt, One Road" proposal comes off as a plow for China to further an economic stronghold.
Observations of the proposed trade routes are leading economists to speculate that Jinping new silk road is just an attempt to pull Asia and Africa's strongest economic outputters closer to Beijing.
Before this revitalization of the silk road, the Chinese government states around eight billion dollars in trade passes through the country within a year. The Chinese government stands to gain even more.
This proposed path of infrastructure development and free trade is expected to span over "70% of the planet's population, three-quarters of its energy resources, a quarter of goods and services and 28% of global GDP—some $21 trillion" according to a report from Time magazine.
The impact of this, beyond a stronger sense of economic globalization, is the apparent stronghold the People's Republic of China stands to gain.
Already an economic powerhouse, China will be able to further develop nations with raw resources that Bejing can capitalize on. The government isn't shy to admit to their objective, stating "It helps to usher in a new era of globalisation that is open, inclusive and beneficial to all" within their mission statements for the project.
The United States government has been making consistent efforts to try and deter China from surpassing the United States in economic influence. The Chinese having a stronger footing within the lesser developed sections of Asia and Africa may stand to threaten U.S. legitimacy in the economic world.
With that in mind, government officials are hesitant to oppose the new silk road directly, as further development will reveal not only true Chinese intentions, but how the United States will respond to this trade plan specifically.