Growth and Transformation on Anniversary of Women's March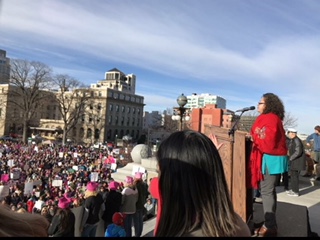 Hang on for a minute...we're trying to find some more stories you might like.
For many Idahoans who stood on the steps of the Capitol January 22nd, the scene before them felt a little bit like Deja Vu. Pink, cat-eared hats dotted the crowd of protesters; signs reading statements like "Nasty Women Vote" and "I'm With Her" waved in the chilly January air; activists on the Capitol steps clutched a banner reading "Idaho Women's March Anniversary Rally."
It was a year after the original Women's March, an event created to protest the inauguration of president Donald Trump. Though the original event and the commemorative rally a year later look similar from a distance, up close there were noticeable differences. The most obvious: protesters did not march this year, instead opting for a rally on the Capitol's steps.
There were subtler differences, too. Some criticized last year's marches for their lack of political direction; this year, Boise's rally tried to remedy that by offering a number of ways for attendees to get politically involved beyond protesting. "We chose a rally in particular so that people could express their dissent while also channeling that energy into a more productive end," says Sadie Pierce-Heartman, a Boise High junior and one of the March's organizers. Booths for different ballot initiatives and campaigns ringed the Capitol, and petitioners for everything from closing the Medicaid gap in Idaho to supporting Paulette Jordan's bid for governor darted in and out of the crowds, asking for signatures.
This year's rally also attempted to rectify what many believed was one of the problems with last year's march: a lack of diversity and inclusivity. This year, Idaho's rally made a noticeable effort to include women of color, especially native women, in the event.
"Two out of five people on our committee were [people of color], including the head of it," says Pierce-Heartman. "Three out of five speakers were [people of color] as well." Speaker and former Representative Nicole Lefavour noted, "I've never seen adults organize as diverse an array of speakers so dedicated to being inclusive and understanding the mutual challenges so many of us from  so many backgrounds and experiences face."
Many attending the rally wore red in order to draw attention to the plight of the millions of murdered or missing native women, and their presence educated many of their fellow activists: "I had no idea missing Native American women aren't labeled missing in local or state records," says Boise High senior Liam Marchant, who attended the march. "A lot of this news is just beginning to surface. As conscious Americans it's our duty to recognize the faults of our ancestors and restitute them."
Still, the rally's attempts at diversity weren't free from criticism. The event opened with traditional native drumming and singing performed by a white musician. Speaker Lisa Sanchez, Boise's first Latina city council member, critiqued the choice in music, saying that it should have been performed by a native musician.
"Only minutes before I took to the microphone, an indigenous sister at the rally specifically asked me to address the issue of cultural misappropriation that seemed to be happening at the event," says Sanchez. "Sometimes you only have a moment to decide what is right, and in that moment, that is what I decided was best."
Organizers acknowledged they may have misstepped. "There were mistakes made with the music choice during the rally," says Pierce-Heartman. "We met with the musician, Lisa Stravers, and Lisa Sanchez after the event to learn more about the issues that came up, and I agree that there were things that could have been done differently."
In the end, the anniversary of the Women's March wasn't perfect, but most who attended agreed that that wasn't the point. "We were missing indigenous voices, older voices and transgender voices — and doubtless others, but the beauty is the openness of the organizers to always learn and do all they can to reflect the perspectives that need to be there as much as humanly possible," says Lefavour.
Sanchez agrees: "Social justice work is a constant practice and there are no good guys and no bad guys," she says. "It is all of us together trying to do better and being honest with each other about where we are falling short."
Though the Women's March Anniversary Rally is over, these conversations are far from done, and there's no doubt that those who attended will continue this constant practice of making our world a better place–with all the messiness, beauty, and growth that entails.