Born To Break Records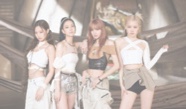 Blackpink is a K-pop group set up by YG Entertainment. It consists of members Jennie, Jisoo, Lisa, and Rosé. On YouTube, their music videos for "Kill This Love" and "How You Like That" broke records for the most-viewed music video within 24 hours. They are the most successful girl group in Korea and are dubbed the most famous girl group in the world. 
Released on September 16, 2022, Born Pink is the second studio album by YG Entertainment and Interscope Records. The mini album consists of eight tracks. My favorite tracks are "Hard To Love", "The Happiest Girl", and "Yeah, Yeah, Yeah". I found "Hard To Love" appealing because it surpassed my expectations. When I first heard "Pink Venom" and "Shut Down", I thought, how is Rosé the main vocalist, given that she barely has any vocal lines? Later, she got a whole song to show off her voice! Moreover, "Yeah, Yeah, Yeah" has tremendous instrumentals at the end. The song's theme is about how it feels to be hesitant to tell your feelings to the person you're into, but once it got to the instrumental part, the song exuded confidence, with the girls singing "Yeah, Yeah, Yeah." "The Happiest Girl" is the most beautiful song in the album, lyrically and vocally. I put this on the list because it shows how much the members, Jisoo, Lisa, and Jennie, have improved and grown with their vocals. The low register vocals sound excellent, and Jisoo's head voice and falsetto are soothing. 
The two beginning tracks, "Pink Venom" and "Shut Down", have been in some heat recently. Some fans say it's a disappointing intro, and at first, I agreed because the  hip-hop concept was differnent than the norm. Personally, it didn't sound that great at first, but after a few listens, it grew on me. I'm fond of how they don't restrict themselves to a single genre and branch out their music styles. They're unique and flexible.
This is the best album in my opinion. Jisoo and Lisa carried the whole album with their vocals. We hadn't experienced the full extent of their abilities. I like how they don't stick to one musical style and branch out. They never fails to impress us.